A 3PL provider that performs integrated services is kind of like a puppeteer that controls three or more puppets at the same time. When those "puppets" include drayage, warehousing and final delivery services, you can leverage the 3PL to dramatically improve your port-to-retail-shelf cycle time. In this article, we'll tell you why food companies would benefit from such an integrated 3PL for food services.
Why work with an integrated 3PL for food logistics services?
1. Integrated 3PLs offer greater control of – and visibility into – your food supply chains. Many food products tend to have shorter shelf lives and aren't ideal candidates for long-term storage. These products typically need to move through the supply chain as quickly as possible.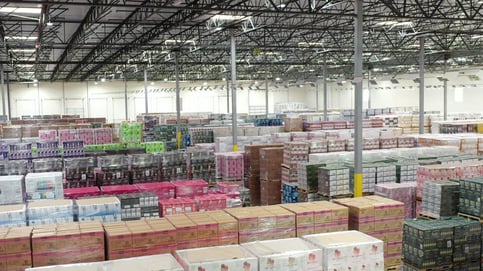 A great way to accomplish this is to work with a 3PL that can handle several components of your supply chain. Let's look at an integrated 3PL that handles drayage, warehousing and transportation services. If the products are being imported from overseas, that single 3PL can handle everything from receiving the containers, offloading the containers, putting the pallets into warehouse inventory, picking orders for outbound at the inner, case or pallet level and delivering to the consignee.

Even better, you're only dealing with one 3PL – and one 3PL system – for visibility into this entire process. The 3PL can pull any strings necessary to support the movement of your products.

Need the warehouse to open after hours to receive an incoming container? Need to bump up an outbound shipment from the warehouse to accommodate a retailer? Your integrated 3PL can do those things seamlessly as it controls all elements of the distribution process.

2. A 3PL that offers pool services can save you time and money. If you're shipping food products to grocers and retailers, but only ship a few pallets at a time, you could be wasting a good deal of time and money on expensive LTL shipments and/or waiting to fill a truckload. Pool distribution helps to alleviate both challenges.


A pool strategy moves from on-demand shipping to more of a pre-planned, coordinated shipping schedule. The pool concept works at both origin (pool consolidation) and destination (pool distribution). At origin, 3PLs or food-grade carriers managing long-haul truckload moves establish a regional consolidation center where many companies ship finished goods from the factory to then be combined for distribution to other regions of the country.

The 3PL works with multiple trucking companies to fill freight capacity. Through this collaborative strategy, the 3PL coordinates a schedule of outbound shipments and delivery dates. The full trailer can go direct to a 3PL- or carrier-run pool distribution center that sorts and segregates products based on purchase order information and arranges final delivery to consignees to meet agreed arrival dates.

Some 3PLs, like Weber Logistics on the West Coast, operate pool points that leverage their own regional delivery services for final-mile distribution.

3. Integrated 3PLs specializing in food can keep you compliant. It's no small feat for a single 3PL to handle multiple components of a supply chain. It's an even greater advantage when that 3PL specializes in food distribution and can keep you compliant with the many regulations and vendor requirements associated with food logistics services. These include all local, state and federal regulations such as those associated with the FDA and the Food Safety Modernization Act (FMSA); local, state and federal licenses for food warehousing and transportation, including those associated with alcohol, organic or kosher products; and the ability to segment inventory by code date, expiration date, best used by date, FIFO, FEFO, LIFO, and any other configuration your vendors require.


In addition to adherence to compliance requirements, some 3PLs go a step further and demonstrate their commitment to food safety with quality designations such as AIB certification.

Still others can provide all of this for food companies, while also offering temp-controlled logistics services to keep product in range throughout the entire supply chain. When one 3PL controls so many components of the supply chain, the risk of temperature-related damage can be reduced as there are no handoffs between providers and different temp-monitoring systems – one 3PL is charged with protecting product integrity each step of the way.
Finding an integrated 3PL for food services: experience matters
Working with a food logistics provider that can handle several components of the supply chain removes the need for vetting multiple providers, as well as integrating multiple systems.
But this efficiency is meaningless if the provider doesn't take care of job #1: protecting the integrity of your products. This entails vetting each service your integrated provider offers as if it was its own entity, and talking to the people – associates and drivers as well as management – to make sure they're just as knowledgeable about the safety of your products as you are.
At Weber Logistics, we take pride in serving the food and confectionery industries with our drayage, warehousing, and asset-based transportation services, including temp-controlled warehousing and transportation. We're AIB- and organic-certified, and have our own dedicated internal audit team with a process every bit as stringent as those certifications. When you're ready to talk to an integrated food logistics provider, be sure to contact Weber Logistics.