For many companies, Mexico has long been an ideal manufacturing location due to lower costs and close proximity to American consumers. What has often been less than ideal, however, is the distribution of those finished goods after they leave the plant. Mexico logistics is often fraught with hurdles such as border uncertainties, inadequate warehouse capacity, and security concerns. To overcome these hurdles, many companies are enjoying the best of both worlds: manufacturing in Mexico and shipping finished goods to a U.S. logistics facility for distribution.
Mexico Manufacturing + U.S. Distribution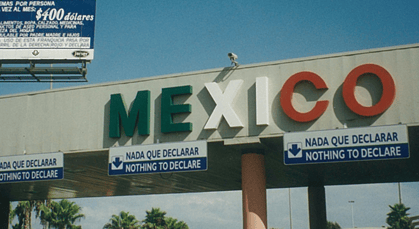 With this model, a company has its goods assembled in Mexico but has the final products shipped to a logistics partner such as a 3PL on the U.S. side of the border for storage and distribution. For example, a Weber customer stores rolls of paper in our San Diego warehousing facility and ships these rolls to a plant in Mexico where they are made into diapers. The diapers are then shipped back to Weber for distribution across the U.S.
The company realizes cost savings by manufacturing the diapers in Mexico, but then enjoys the reliability and predictability of performing logistics operations in California.
Advantages of U.S. Distribution vs Shipping Direct from Mexico
The obvious question is "why don't you just distribute the finished product direct from Mexico?" The answer is that companies have done just that for years but ultimately feel that the risk outweighs the reward. So, while companies may distribute a portion of their stock direct from Mexico, more often than not they are handling distribution on the U.S. side of the border for a large segment of their inventory. Some reasons:
Transit times are more predictable.
Whoever you are and whatever you're shipping, you're likely under pressure to get it there within in a predictable window of time. Transportation from Mexico into the U.S. is simply not that predictable.
For instance, there have been several times in recent years where major roadways and border crossings (e.g., the San Ysidro border) have been shut down due to protests and other incidents. When a border crossing is shut down, it could take two-to-four days for trucks to get moving again. This leads to delayed or missed shipments, chargebacks, and other resultant headaches. By partnering with a California logistics company, reliability in your operations can be improved.
Theft is less of an issue
Cargo theft in Mexico is becoming more prevalent. According to Mexico's National Chamber for Cargo Transporters (known as CANACAR), there are projected to be about 2,400 highway freight robberies this year. That's up 37 percent over 2016, which was 60 percent higher than 2015.
Better road infrastructure
Mexico has fewer roads, higher tolls, and varying degrees of quality across its roadways. The Mexican government is making strides to improve its infrastructure, but there is still a lot of work to be done.
Better visibility and control
Companies expect to be able to monitor the status of inventory and shipments online. Warehousing and trucking partners in the U.S. tend to be more advanced in this area, offering full visibility into inventory and shipment status.
Greater capacity and more modern facilities

While there is a very healthy amount of industrial development on both sides of the border, the U.S. offers greater warehousing capacity and more modern facilities. Many of these facilities also have appropriate U.S. certification and climate-control capabilities that enable them to serve a range of industries – including food, retail, and chemical warehousing.
Mexico Logistics Capabilities are Advancing
The advancement of Mexico logistics certainly bears watching in the coming years. The government has committed billions of dollars to improving the country's infrastructure, and giant companies like Amazon have announced larger footprints in the country – developments which could drastically improve Mexico's future as a logistics powerhouse.
As things sit now, however, companies are straddling both sides of the border to remain competitive and profitable. For many, this entails handling the manufacturing side of their operations in Mexico, while handling most of their warehousing and distribution in the U.S.
Need warehousing and trucking services in Southern California? Weber would be happy assist. Contact us to discuss your needs.