Freight logistics professionals can learn something from Match.com - the dating service that links you with complimentary partners.
In freight, the perfect match can cut your freight costs 8% to 10%. This happens when like shippers who lack the volume to ship in full truckloads utilize pool distribution services to combine their freight into lower-cost truckload moves.
The trick is finding other shippers whose freight requirements match your own.
Confectionery pool distribution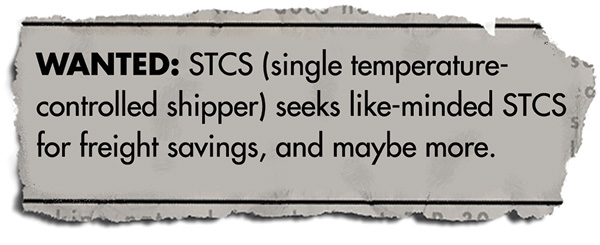 An alternative to LTL, pool distribution services work for final mile delivery and at origin. At origin, 3PLs or carriers managing long-haul TL moves establish a regional consolidation center where companies ship finished goods. These goods are ready for distribution to other regions of the country. The 3PL then works with multiple shippers of temperature-controlled freight to fill freight capacity for the long-haul moves.
The candy industry is a great example of where freight handling and temperature requirements are very similar across manufacturers. This similarity makes these products ideal for pool distribution services.
Weber Logistics handles pool distribution for many candy companies who share the cost of final mile delivery with similar companies - even competitors. Most days, the scene at Weber's Rancho Cucamonga warehouse outside L.A. is like a candy lover's dream. Pallets and pallets of chocolates, lollipops, bubble gum and other products from the world's top candy brands. They arrive from the East and then are sorted, segregated and readied for loading onto trucks for final delivery.
Weber's TMS consolidates loads destined for the same retailers, while meeting the required delivery dates agreed upon by retailer and supplier.
According to Dave Vennard of Ferrero USA, a participant in the Weber pool distribution program, "The consolidation allows us to share the cost of full truckload shipments with Weber's other confectionery customers. The solution saves significantly over non-consolidated LTL, but we're also reducing truck miles, an important component of Ferrero USA's sustainability efforts."
Food shippers are drawn to Weber because of its temperature-controlled warehouses and its fleet of refrigerated trucks. But the biggest draw is Weber's dense concentration of customers who share temperature range requirements and consignees.
Weber has the customers and the temperature-controlled infrastructure already, so companies don't have to build it themselves or piece together multiple providers. They can just add their freight to the program. To learn more about pool distribution, contact Weber today.