When you think of the holidays, what pops into your mind? Is it a winter wonderland, super sales, nonstop festive music, or is it all the FOOD! Can you image the holidays without your favorite holiday food and drinks to enjoy and share. The holidays would be ruined!
At Weber we don't want to spoil the holiday spirit.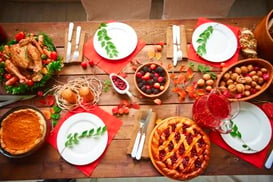 Peak Season is approaching for the food and beverage industry and most are gearing up for holiday distribution. In order to ensure Weber can accommodate all our customer's needs during this time, here are a few golden rules we use:
Look at the Stats.
We have created benchmarks over the years to prepare for different seasons. Tracking fluctuations and finding recurring themes in inventories and shipments allows us to better prepare for higher volumes during the season.
Have Staff Ready. Being prepared with historical data should help a company select the amount of labor they will need. Work with your temp agency to increase temp workers on staff so they are ready to jump in to ensure maximum productivity.
Set Earlier Deadlines. We try to set earlier deadlines for our customers to allow for internal surprises. The last thing a company wants to have happen is missing a deadline or clients refusing service.
Create Contingency Plans. History has proven again and again, things never go as planned. Work with your team ahead of time to create contingency plans for operational interruptions; but also work with your clients to keep them aware of other options they can utilize. A great Plan A always includes Plan B and C.
Allow for Transparency. Have systems in place that allows your client to have full visibility of their product. Allowing them to receive real time information can help maintain fluidity in the supply chain process to catch errors before they become a major issue.
Peak season can bring out the best or the worst in a company. Be sure to prepare for your customers' needs so you can accommodate them to the best of your ability.
To learn more about warehousing and distribution for food and beverage products contact us or download our White Paper: Choosing a 3PL for Food Product Distribution: 5 Critical Areas to Evaluate.