With dedicated trucking services, your company can hire a 3PL provider to manage your transportation operations. The 3PL will dedicate equipment and staff solely to your business and will operate as though it is your company's own transportation arm. The 3PL makes all investments in equipment, staffing, systems, and maintenance and charges you accordingly.
Is such an arrangement right for you? We've asked Gary Kendle, VP of Transportation at Weber Logistics, a series of questions to help you determine just that.
What type of companies are a good fit for dedicated trucking?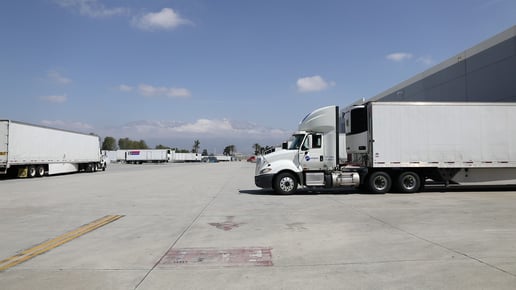 In general, dedicated trucking is a good fit for larger manufacturers, retailers, and what I would call enterprise-level organizations. And it comes down to a basic question of "should I build, or should I buy?" By 'build,' I mean having your own private fleet of trucks and drivers, effectively making you a trucking company. And with 'buy,' I mean working with a 3PL for a dedicated operation.
And when you buy, you obviously save some money because you don't have to pay for trucks, drivers and the infrastructure required to have a fleet.
Ultimately, companies that are good fits for dedicated operations are those that are willing to pay for guaranteed capacity because their product is so important that they don't ever want to be without a truck.
So, locking in capacity is the real key?
Yes. Dedicated ops are more suited to companies with higher-value products where timeliness of distribution is a major factor. Dedicated trucking and the 3PL's allocation of trucks and equipment to your operation gives you peace of mind to know that your loads are always covered – and with rates that are locked in (according to the terms of the contract).
Do some companies do a mix of dedicated and spot market?
Yes, many companies do that. We call it the "85% solution." They want a dedicated fleet to handle 85% of their loads. For the remaining 15%, they can either flex with the same 3PL or with another 3PL. You can even put terms into your dedicated provider contract that cover what additional load coverage would look like in terms of costs and other factors.
On a related note, let's say a company is working with a 3PL pretty regularly for trucking services like LTL and truckload, but they're doing it a la carte. Is it common for them to flex up to a dedicated contract or is it usually a dedicated relationship from the start?
I was actually having this exact conversation with a company yesterday. It is common. Many companies want to simplify their supply chains and give more chunks of their operations to one provider. This makes communication, tracking, systems integrations, and more much easier because you only need to deal with one company.
So, if you have a trusted logistics partner that's already handling transportation services, and they're doing right by you, it can make good sense to put a dedicated contract in place. Again, it really comes down to capacity, cost, and peace of mind like we talked about earlier.
What types of products or commodities do you typically see in the dedicated world?
In general, we're talking about high-value items. It's very common within the manufacturing industry, for example. Whether it's companies that supply parts for machines or produce the machines, those items are extremely time sensitive. Dedicated trucking is also very common in the chemical industry and with medical supplies. These are high value items that need to move fast and need to be predictable – on time every time.
And there's a lot of competition in industries where dedicated trucking is common. A dedicated operation is one of the many levers companies pull to stay ahead of the competition.
As we sit here in September 2023, we're reading about how import volumes are coming back to pre-pandemic levels, and we're seeing relatively shipper-friendly trucking rates across the country. Is now an advantageous time to work with a 3PL for a dedicated trucking operation?
It's a good question. On one hand, there seems to be enough capacity in the market that companies aren't necessarily clamoring to find trucks to haul their loads.
On the other hand, it might be a very good idea for companies to pursue this option now for two reasons.
First, no one has a crystal ball, and we don't know what 2024 or 2025 will look like. So, locking in capacity now will guard against future uncertainty and any possible disruptions. With a dedicated contract, your 3PL is committing its drivers and equipment to you – they're spoken for.
The second reason is that freight rates are down considerably. They're down even compared to 2019. We're probably back to 2016 or 2017 levels in terms of freight costs. So, by contracting now, you can lock in rates that are probably lower than they should be. This is assuming, of course, that you have a good sense of what your volumes and needs will be for the next few years.
To learn more about Weber Logistics' dedicated trucking services – on the West Coast or nationwide – contact us today.