In modern baseball, the analysis of player performance has less to do with time-honored traits (e.g., power, speed, agility) and increasingly more to do with metrics. With these metrics, teams define the "best" players as those that perform well in key statistical areas like "on-base percentage" and "slugging percentage" – not necessarily who can hit the ball the farthest.
The same is true in the modern supply chain, where – like baseball analysts – retailers keep score and measure statistics. And that close scrutiny ultimately increases the pressure on you, the retail supplier.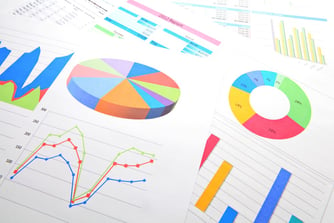 Retailers use metrics to grade your performance, and that grade may ultimately impact your status with the retailer. So you need to understand your distribution performance on a granular level. Unfortunately, many companies set up distribution operations, often with a third-party logistics provider (3PL), but fail to actively monitor performance – until, of course, a retailer customer calls and raises the roof. By then, it could be too late.
If your supply chain metrics begin and end with "What's my cost per piece?" you're vulnerable. Start paying attention to metrics like:
On-time shipments
Percent perfect order
Dock-to-Stock
Chargeback fines incurred and refuted
These measures speak to quality and service performance that will help grow your business!
The Importance of Supply Chain Metrics
Metrics are important in the supply chain for many reasons. The most important reason: your retail customers say they're important. Companies like Walmart, Costco, and Kroger have all issued mandates to suppliers stating that the full agreed-upon quantity needs to get there on-time in the required configuration with the correct items and quantities or the supplier will face potentially-staggering penalties.
Such mandates magnify the importance of what happens in the warehouse.
On time deliveries – of the right items in perfect condition – ensure happy customers and continued business
Speedy receipt and putaway of items – typically within 24 hours – ensure products are available to fill orders
Keeping careful records can help refute and reverse fines (the right 3PL can be invaluable in this area)
Every year these retailer requirements increase. "On-time," for instance, is now up to 300% faster than it used to be (e.g., Walmart wants certain food and household items to arrive within one day, as opposed to the previous four-day window).
Retailers are actively measuring data related to these mandates, and give suppliers scorecards to show how they're measuring up. Since metrics are now more important to you, you must make them important to everyone downstream from you – especially your 3PL(s).
Setting Expectations for Supply Chain Metrics Reporting From Your 3PL
If you're working with a 3PL or other logistics provider, that partner should be providing you with transparent access to your data and having regular reviews with you on the performance. For instance, at Weber Logistics, our customer web portal combines data from our warehouse management system, transportation management system, and document imaging system to give you the data you need to stay in the know and in control. You can also access reports online or request the system to deliver custom reports to your inbox on your chosen schedule. Our operations teams meet with customers on a weekly or monthly basis to discuss projections, trends, issues and solutions.
Technologically, there is no reason for not getting this granular level of visibility from your 3PL. It's something you should expect and demand.
In addition to giving you real-time insight into your distribution performance, such transparency also facilitates trust between you and your partner. You're able to go about your business, while seeing that your 3PL is performing for you. And, should an issue arise, you're both able to look at the same data and adapt, solving problems as they occur – not scrambling to solve them after the fact. Conversely, a lack of transparency to performance data should be a major red flag.
Remember: They're Your Metrics
Retailers are under enormous pressure from Amazon to operate more efficiently. As a result, they are using metrics to optimize every aspect of their operations. They want their suppliers to do the same. Your business, therefore, depends on the measurement of your work as much as the work itself.
So, don't wait for your retail customers to tell you how you're doing – get ahead of it. Demand visibility into your supply chain metrics and avoid nasty surprises on your retailer scorecard.