Getting product to market fast, and at the lowest cost. While these goals sometimes conflict, there are times when logisticians can achieve both simultaneously. Cross docking is one of those opportunities and in this article we'll take a closer look at this distribution-speeding process.
What is a cross docking warehouse?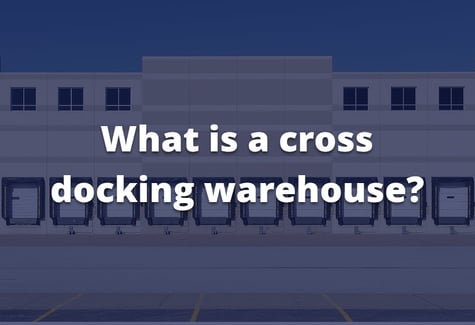 Cross docking services involve unloading product from a trailer or container and transferring it to another OTR trailer "across the dock" in the same warehouse. This process commonly occurs at a 3PL warehouse, where the 3PL provider will receive the incoming product and quickly prepare it for outbound distribution. Many cross dock projects are completed within 24 hours, though some can take 2 - 3 days. Either way, product remains in the warehouse's staging area and is not put away into storage.
Cross docking is mainly a speed play. Its biggest advantage is speeding distribution by skipping long-term warehouse storage.
Cross docking is often performed for retail products that have already been sold and allocated by the time the inbound shipment arrives. For example, if Company X has shipments arriving that have already been sold to Walmart, all parties involved want that product to get to Walmart as quickly as possible. Cross docking allows the product to be received, immediately readied for shipment to Walmart, and shipped out.
Skipping the storage step helps companies avoid long-term storage costs and eating up scarce, costly space at a time when warehouse capacity is at an all-time low.
Is cross docking similar to transloading?
With cross docking, products are generally palletized when they arrive at the 3PL warehouse. With transloading services, on the other hand, the products usually arrive in floor-loaded cartons and either go out as floor-loaded cartons or they are sometimes palletized and shipped via trailer. The 3PL will ensure that the outbound product meets all vendor requirements while staging them for retailer pick-up or for delivery to the destination DC.
The transload process might also include deconsolidation, where products are loaded onto multiple trailers and/or intermodal containers for distribution to multiple locations simultaneously.
This is an effective strategy when the end customer is dispersed across a wider geographic area. For example, three containers may arrive at a 3PL warehouse, each full with one SKU. The 3PL may create shipments containing product from each container, and stage those shipments for pickup or delivery to multiple retailer distribution centers.
Who utilizes 3PLs cross docking services?
Many 3PL providers perform cross docking as an ancillary service in addition to their core distribution and transportation business for existing clients. Capable 3PLs can bolster their value-add to clients by combining their cross docking services with value-added services such as compliant labeling.
Turn to Weber Logistics for cross docking warehouse services
Weber Logistics offers an integrated suite of logistics services including warehousing, transportation, and port services, and is adept at performing cross docking services for many of its clients. Even better, Weber can perform all distribution movements in a cross docking scenario, from drayage of the containers from the port to the warehouse, and then final delivery from the warehouse to the end customer. Weber's vendor compliance expertise ensures that the products your retail partners receive are always in the required configuration, per routing guide instructions. To learn more about Weber's distribution services, contact us today.