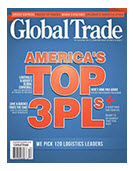 World's Trade Magazine's December 2013 issue on "America's Top 3PLs" named Weber Logistics to its TOP TEN list of 3PLs focused on temperature controlled warehouses and supply chains. The magazine's editors called out Weber's systematic monitoring of temperatures, in the warehouse and in trucks, to ensure cold chain integrity for food, beverage and confectionery products. See the write-up on page 60 of the magazine.
Monitoring temperatures is a key aspect of food distribution. Read our Insight Paper: Choosing a 3PL for Food Product Distribution: 5 Critical Areas to Evaluate.
For temperature-sensitive products, errors of just a few degrees might lead to thousands of dollars worth of write-offs. A 3PL that understands food will deploy technology to monitor the environment through all phases of the supply chain—in the warehouse, on the dock and on the road. Any time the temperature slips above or below the ideal range, the system sends an alert, and an expert steps in to correct the problem.
If you are choosing a 3PL for temperature controlled warehousing and logistics, here are steps you can take to ensure your logistics partner understands cold chain management.
Tour the warehouse. Temperature monitors should be visible in all locations, with separate units at the top and bottom of multi-level racking.
Ask to see logs that show temperature readings over time.
Ask how reefer trailers are monitored.

At the very least, they should carry digital thermostats that are easily visible to the driver.

What's the backup plan? If the cooling or heating system goes down, how will the company maintain the right temperature in each zone until it's repaired.
Read our Insight paper for more helpful hints on selecting a 3PL partner for food distribution.