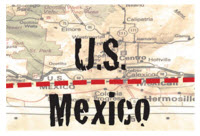 For years China has been the country of choice for companies looking to establish lower-cost manufacturing operations overseas. Today, the same firms are looking to move their manufacturing out of China. Why? Well, China is experiencing higher labor costs, high fuel prices, and an overall increase in transportation costs to get goods to the final consumer. These factors have led many companies to seek alternate manufacturing sites closer to home.
China's loss has become Mexico's gain, with more companies relocating manufacturing there. Many CEOs are very happy to leave the 16 hour flights and midnight conference calls behind. Who wouldn't?
The key factors triggering the journey across sea from Asia to Mexico include:
Cheap labor costs - The Chinese currency, the Yuan, has risen in value, making goods more expensive to export. One Yuan = $0.16 U.S. Dollar, while one Peso = $0.07 U.S. Dollar.
Easier ability to cross US borders with goods - Mexico and the United States are working to streamline the border crossing process.
Shorter shipping times to Western United States – A 6-8 weeks wait period for product to get to market now shrinks to hours.
As an increasing number of U.S. companies start manufacturing in Mexico, the U.S. and Mexican governments will continue to work closely to streamline trade. This will allow companies who position their supply chain along the border to become more efficient than ever before. Since logistics operating costs are not labor intensive, they can be kept low in the U.S.
California itself has 6 ports of entry in Baja, California, including San Ysidro, Otay Mesa, Tecate, Calexico West, Calexico East, and Andrade. Baja, California has become one of the key entry ports, making San Diego a key distribution center location to support cross-border activities. About $54 billion worth of goods move across the region's border annually, according to the San Diego Association of Governments. A San Diego distribution center brings the following benefits:
Close proximity to Mexican manufacturing plants
Easy access to the largest port in America to retrieve raw materials
Distribution to the huge Western U.S. consumer market
Weber Logistics provides logistical services in San Diego. Weber's San Diego warehouse is located 5 miles from the Mexico border with easy access to the San Ysidro, Mexico port of entry. Advantages of Weber's San Diego logistical services include proximity to border crossings, rail siding, integrated warehousing/trucking services, and port services.
Learn more about Weber Logistics services in San Diego and across the Western U.S.