If you get competing carrier bids, rate comparisons are easier than those for warehousing. Trucking companies have published tariffs for services. As rates are requested, these carriers will ask about the commodity, the originating address, the destination address, and whether the product is palletized or floor loaded. With this information, carriers can reference their tariffs and quickly provide a quote.
It's an apples to apples comparison.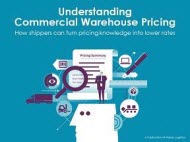 But precise warehouse rates require a more detailed analysis. Companies often cannot provide all the data requested, so 3PLs have to make assumptions in order to complete the pricing profile. Different 3PLs make different assumptions, and these differences are reflected in different rates for the same exact volume and services.
It's an apples to oranges comparison that makes it difficult to fairly assess supplier pricing.
You can't assume that, because you gave multiple providers the same input, that their pricing will be based on the same assumptions. Let's take the simple example of stackability. Without detail that pallets can be stacked on top of each other 3 high (taking up less floor space per pallet), the provider may assume it can't be stacked and base the storage pricing on 30,000 sq. ft. instead of 10,000 sq. ft.
Other providers will do the opposite. They will assume a "best case" scenario in order to lowball rates and get the business. In three months, they'll ask for an increase after showing you how the actual operations are very different from initial assumptions.
The best thing you can do is educate yourself about how 3PLs develop commercial warehouse pricing. And, what do you know, we can help! Weber Logistics recently published a Commercial Warehouse Pricing Guide that explains the basics of how rates are determined. You can use your new-found pricing knowledge to save your company money. Understanding how 3PLs determine warehouse rates will allow you to work with these partners to create the best, most efficient receiving, storage and fulfillment processes possible.