Selecting a location to manufacture and set up distribution is different for all companies. Mexico is re-emerging as a leading location for manufactures due to increasing labor and fuel costs in China and Mexico's accessibility into the United States. Many companies especially those in the automotive and aerospace industries are taking advantage of the situation manufacturing in Mexico and setting up distribution in the United States along the Mexico border.
Whether you decide to manufacture in Mexico or not, having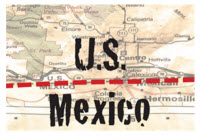 a distribution center along the United States and Mexico border can be beneficial to your company.
Here are a few benefits of having a border distribution center:
Expertise. Traditionally border brokers have provided distribution services, but they do not have the systems or expertise of a U.S. distribution center. It is critical to hire experts in U.S. Omni Channel distribution to ensure you gain the most value from your distribution center.
Lower Costs. Distributing goods on the U.S. side of the border reduces transport costs inland across to the Western United States. Savings will also be generated by having a higher velocity process as your products will be distributed much faster.
Production. Manufacturing in Mexico will generate quality products while in close proximity to the United States. This results in faster turn times and saves storage costs by reducing the amount of inventory in factories. Typical manufacturing in China and shipping to LA/LB ports, results in longer production periods and ties up inventory.
Weber Logistics provides logistical services in San Diego. Weber's San Diego warehouse is located 5 miles from the Mexico border with easy access to the San Ysidro, Mexico port of entry. Advantages of Weber's San Diego logistical services include proximity to border crossings, double rail spur, integrated warehousing/trucking services, and port services.
Want to learn more? Contact Weber today to find out if a boarder distribution center is right for you! Contact us at 855-GO-WEBER (469-3237).