Everyone remembers the fairy tale story of Goldilocks and the Three Bears? As a refresher – Goldilocks sat in the chairs of the Papa, Mama and Baby Bear. She ate their porridge. And she finally fell asleep in Baby Bear's bed after trying out all of them because it was "just right". This story can be revamped into the 3PL selection process for many companies. Whereas, a company has gone to a national vendor thinking big has got to be better. Isn't that the philosophy of the American dream?
Unfortunately, this shouldn't be your approach when you are selecting an important extension of your organization, a partner who will share the responsibility of your supply chain. You need to ensure that you open your discussions to regional players who may be the perfect fit for your organization. Below are a few reasons why a regional provider can be a better fit at this time.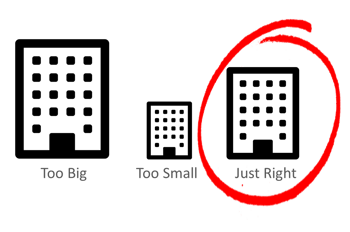 Benefits of a Regional Supply Chain Provider:
Experience: Regional providers are going to have a strong knowledge of their market. You can expect a regional provider to know the ins and outs of the region. For example, what are the best distribution locations, trucking routes, labor rules and regulation compliance. This regional expertise will benefit your business and the service to your customer.
Service Consistency: Many times larger companies have a hard time ensuring that you receive the "McDonalds" effect. When you go to a McDonalds – you can expect the same experience no matter the market. If you are using one company to handle your supply chain – you would expect that your experience is going to be the same at all the facilities that you are using. Unfortunately, that might not happen. Expanding your supply chain to multiple vendors, not only allows you to have positive experiences in your distribution centers but also to leverage that service amongst your providers to raise the bar. If one partner measures performance at a higher level and the business is consistent between facilities, you know can work with your partners to ensure service is at a high level all across the board.
Be the Big Fish: There is something to be said about being the "big fish in the little pond". Your business is important and you want to be an important client to your partner. You want them to care. When you select a partner, don't get lost or be just a number to them. Being the small fish in the big pond can be frustrating when you may not get the attention and service that is needed. Companies need their partners to be responsive. Make sure that your pond is the right size!
When determining the best direction for your company, don't discount the regional player. The Regional 3PL provider can provide the EXPERIENCE, EXPERTISE, CONSISTENCY and RESPONSIVENESS that a good partner is expected to provide. The regional partner may be the perfect fit for your organization!
For 3PL warehousing and freight projects on the West Coast, consider the West Coast logistics leader – Weber Logistics. No other 3PL -- global or regional -- can match Weber's market knowledge and logistics infrastructure on the West Coast. If you need California warehousing services, we have Southern and Northern California warehouses, with additional distribution centers and delivery services for these key regional markets.
To learn more about utilizing Weber Logistics as your regional provider, contact us today and see if we are the right fit for you!