The products that you have sitting in your warehouse – or that of your 3PL warehousing partner – may not be in the configuration that they need to ship to the end customer. For example, you may need to combine multiple component products into one new re-configured (or 'kitted') product. Or you may need to break apart an existing kitted product into multiple component products. There are multiple variations of these configuration challenges.
Many companies will lean on an outside vendor, like a co-packer, to handle the kitting of these products. However, a smarter option is to look to your warehousing 3PL provider that can handle kitting right in the warehouse.
Why entrust kitting to your 3PL warehousing provider?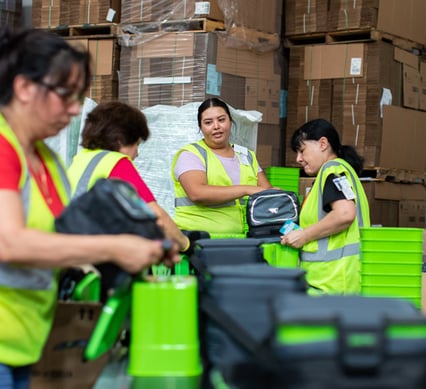 There are a number of reasons why the same provider that handles your warehousing operations is perfectly suited to handle kitting services within that same warehouse.
Save money by avoiding extra moves. If your products are already in a 3PL warehouse, you can save the time and money involved in shipping products to and from an outside vendor.
Maintain visibility into your inventory. Many 3PL warehousing providers have warehouse management systems (WMS) that can – among other things – issue work orders to combine existing products into a new product, differentiate between single and bundled products, and provide documentation and details of all kitting projects. By keeping product in the warehouse and not sending it out to a co-packer, you retain visibility of your inventory in one system.
Take advantage of 3PL engineering. Some 3PL providers, like Weber Logistics, have industrial engineers and warehouse operators on site who regularly design efficient build processes for kitting and other product completion projects, including SOP development, training, and quality assurance.
Examples of 3PL warehouse kitting
At Weber Logistics, we handle kitting and value-added services for many clients. Examples of our work include the following.
For CPG brands and food and beverage companies, Weber regularly creates kits that combine several products into one bundled product for club packs, sample packs, holiday baskets, and point of purchase displays.
For innovative cooler company, California Innovations, Weber employs assembly lines to combine cooler components into finished coolers.
A beverage company shipped pallets of their products to Weber in a 12-pack configuration. However, the products need to be sold in 6-pack configurations. Weber was able to perform a massive kitting operation to convert all products to store-ready configurations.
Questions to ask your warehousing provider about kitting
While kitting in the warehouse is certainly efficient and cost-effective, not every 3PL provider is able to handle it. Ask prospective providers these questions to see if they're up to the task:
"Do you regularly perform kitting projects?" Kitting projects come with significant technology and labor requirements and require different process management skills than other warehousing operations. If your provider isn't already handling kitting projects regularly, chances are you don't want to be the guinea pig.
"Can your system handle products that are sold separately and as part of a kit?" A 3PL's WMS must be advanced enough to distinguish between an order of an individual product and a kit containing that same product.
"Can your operations handle labor fluctuations?" Labor-intensive kitting projects often have spikes (e.g., near holidays or other big sales events). It's vital that your provider has enough associates to scale up to meet project demands.
"Can your operations handle batches and one-offs?" Kitting projects can proceed in batches where a large number of employees create a large number of kits in advance of a promotion. At other times, however, the same kits are requested at the time of the order. You'll want to make sure that your 3PL partner can perform well in each situation.
"Can you provide supplies?" Some companies will want to provide all the necessary kitting project supplies (e.g., boxes, tape, dunnage) to their 3PL. Other times, the 3PL will be asked to provide them. Some 3PLs receive volume discounts on these items and can pass the savings on to the customer. You'll want to make sure that your 3PL's capabilities match your needs here.
"Do you have available space for kitting?" Some kitting projects require lots of space. You'll need to make sure that your provider has clean, adequate warehouse space to perform all operations safely.
"Do you have process engineers on site?" Kitting projects require a good deal of planning and engineering. Make sure that your 3PL provider has the resources to handle them.
Turn to Weber Logistics for kitting services, and all things warehousing
Weber Logistics operates 4,600,000 square feet of warehouse space in California. Within all that space, we perform a wide range of warehousing operations – including and especially kitting. From onsite engineers and automation to labor management ops that can scale up or down as needed, we can help you get the most out of your warehousing partnership.
Better still, our warehousing services integrate seamlessly with our final-mile delivery and West Coast drayage operations. To learn more about our capabilities, contact Weber today.