I just finished reading the results of the latest annual Warehouse and Distribution Center Operations Survey (Peerless Research Group). One of the clear takeaways was that companies need to take cost out of operations, but they are carrying out warehouse efficiency initiatives that don't involve major investments in systems and equipment.
How can you preserve your capital while still driving costs out. Consider a "back to basics" approach to warehouse operations, whether you are a shipper or third-party fulfillment company.
Key processes in warehouse efficiency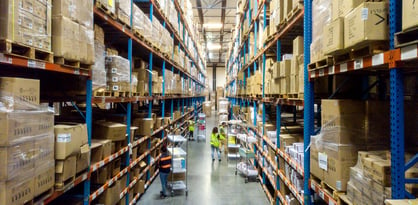 In football, trick plays and elaborate new defensive schemes have their place, but the answer to better performance on the field often comes down to better blocking and tackling. In operations, we too often take for granted that associates are doing the basics well, such as taking the shortest routes while traveling. There's a way to find out if they are. Slip on your coach's whistle and hit the warehouse floor.
Start by mapping out key processes. Brown paper all the activity involved to create a visual. If it's pick and pack processes, how does the associate receive the order? How do they travel? What equipment are they using? Are they grabbing two or three at a time? Are they taking too many steps? Are they parking the jack in the wrong place?
This process analysis is a great opportunity to get input from associates on how to improve. Once you identify all the opportunities to take steps and time out of the process, document your optimized process to create a uniform SOP that can be implemented across all operations.
What are you measuring?
This back to basics approach applies to management of the facility, as well. Start by taking a look at what you are measuring. Are they the right metrics? If you report on logistics KPIs regularly, but nothing different ever happen regardless of whether the number goes up or down, it's probably the wrong metric. The most important things to track are:
Costs
Productivity
Accuracy
Safety
You need improvement goals for each metric and a plan of corrective action if the numbers fall short.
No new systems investments are needed to support a back to basics approach. But your warehouse efficiency evaluation should include a hard look at whether you are leveraging all the capabilities of your existing WMS. Like the human brain, warehouse technology systems have capabilities far beyond those that are used day to day. Any opportunity to automate a manual process will make your operation more efficient and accurate.
Don't forget to audit
Once you're comfortable that the operation is "blocking and tackling" well, make sure that there is a regular warehouse audit – ideally every quarter. This audit should be handled by someone who knows warehouse operations but does not work in the operation itself – perhaps someone from the quality team. You want a fresh pair of eyes to examine current processes in a new light.
Just because the folks in the corner office have put your conveyer expansion or WMS upgrade on hold doesn't mean you can't move on warehouse efficiency initiatives that can achieve real benefits. It may not be sexy, but a back to basics analysis of your operation may be just the thing needed to respond to cost cutting pressures without capital investments.