According to the Census Bureau of the U.S. Department of Commerce, eCommerce sales accounted for 11.8% of total sales in the first quarter of 2020. In light of the COVID-19 outbreak, Q2 eCommerce figures are likely to grow more rapidly, as eCommerce sales through most of April were 49% greater than a similar period in March.
No matter what your company sells, it's imperative that your eCommerce operations can keep pace with this growth. It is also important, however, that B2C growth doesn't come at the expense of your B2B execution.
Because of this, many companies turn to 3PLs that specialize in multi-channel fulfillment (or "omni-channel fulfillment") for both B2C and B2B distribution. In this article, we'll examine what you need to look for in such a 3PL provider.
What to look for in a multi-channel fulfillment provider
The following criteria can help you separate the pros from the pretenders when it comes to multi-channel distribution.
Integration with Shopify and other eCommerce platforms. A cornerstone of any 3PL warehouse is its warehouse management system (WMS). This software-based system is responsible for essential multi-channel functions such as: inventory management, order management (including visibility into shipment status), pick and pack functions, and label printing (including UCC 128 labels).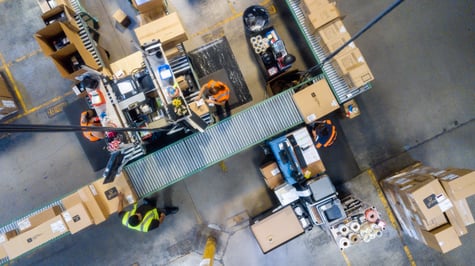 For eCommerce, most top-tier 3PL WMS systems can integrate with Shopify, BigCommerce, Magento and other eCommerce selling platforms. With such an integration, orders flow from the eCommerce platform into the WMS which then – among other functions – creates an order, modifies inventory, prints labels, and designates a picking path for associates.
The bottom line is that whatever your chosen platform is, you want to make sure it can integrate with your 3PL's systems.
Customized packaging. If your product has competition in the marketplace, you need to find ways to distinguish your product in the minds of consumers. One effective way to do this is with custom packaging. Your 3PL should be able to work with you to package your products in a way that will create a positive and memorable brand experience for your customers. From the outer box to the dunnage inside, almost every aspect of your packaging can be customized to reflect your brand.
This ability to customize is also an area in which 3PLs have an advantage over Amazon's fulfillment services. When you ship with Amazon, your product is packaged in Amazon-branded materials and may thus appear as another Amazon purchase in the minds of your customers. With a 3PL, on the other hand, every aspect of the customer's experience can be branded by you.
Infrastructure that can handle customer velocity expectations. If there is a common characteristic among eCommerce shoppers, it's that they want their products fast. Amazon – through its game-changing Prime services – has conditioned shoppers to expect their packages in as little as two days.
Because of this, you need to partner with a 3PL fulfillment company that can process orders quickly and get them right out for distribution. This means that your 3PL must have an infrastructure in place to handle volume spikes during peak seasons – or public health crises like COVID-19. It also means that your 3PL is geared to getting orders that come in later in the day out the same day. In the earlier days of eCommerce, for instance, noon was typically the cutoff, so orders that came in after noon were shipped the next day. In our modern speed-hungry climate, however, that just doesn't cut it.
Retail distribution is a different animal. Your retail customers employ a "just in time" model in which they want just the right amount of inventory so that items are on the shelves and not clogging up their own storage spaces. You can remove much of the headaches associated with this just-in-time model by partnering with a 3PL that supports final mile transportation, and already has geographic routes and standing appointments with your retailers. Your products will simply be included in a given day's deliveries whenever a shipment needed.
Vendor compliance. In addition to the just-in-time requirements described above, your retailers have a host of additional vendor compliance requirements outlined in their routing guides, which are updated regularly.
To void onerous chargeback penalties, it is important that your chosen multi-channel fulfillment partner is a retail compliance expert who stays abreast of routing guide changes and has the ability to adjust operations to meet new requirements. It is also important that your provider has experience in successfully fighting retail chargebacks if you are penalized unfairly by retailers that consider chargebacks a profit center.
Competitive parcel rates. When you partner with a 3PL for multi-channel fulfillment, you're looking to reduce costs vs going it alone. And there are cost savings to be had with the flexible labor and economies of scale that the right 3PL partner offers
Another key area in which you can enjoy cost savings with a 3PL is with parcel shipments. This is because your 3PL is not only shipping your products, it's shipping the products of all its eCommerce customers across all of its warehouses. Such high volumes give your 3PL enhanced buying power when it negotiates rates with parcel carriers – far more buying power than you may have on your own. This clout translates into lower rates for the 3PL and thus lower rates for its customers.
Going live with your chosen 3PL provider
Once you find a multi-channel fulfillment provider that meets the above criteria, it's vital that you can get up and running quickly. With some providers, the 'go live' process can be long and arduous, with many stakeholders weighing in. With others, however, the process can be relatively turnkey.
At Weber Logistics, we have internal teams dedicated to rapid onboarding, logistics engineering, and compliance. These teams can walk with your team throughout every step of the process and get your operations live – and efficient – within weeks, not months. To learn more about the advantages of partnering with a multi-channel fulfillment expert on the West Coast, contact Weber today.