Supply chain disruptions are continuing to cause headaches, but they don't all need to be your headaches. By partnering with a third-party logistics (3PL) company, you can remove key supply chain responsibilities from your plate and entrust them to an expert. In this article, we'll look at why outsourcing supply chain services makes particular sense in 2022.
5 benefits of outsourcing supply chain services
1. You can secure warehousing space in hot markets with a 3PL. Warehouse vacancy rates are at historic lows across the country, while the cost for warehousing space has skyrocketed. The situation is especially pronounced in hot industrial markets such as that of Southern California, particularly in locations less than 100 miles from the Ports of Los Angeles and Long Beach.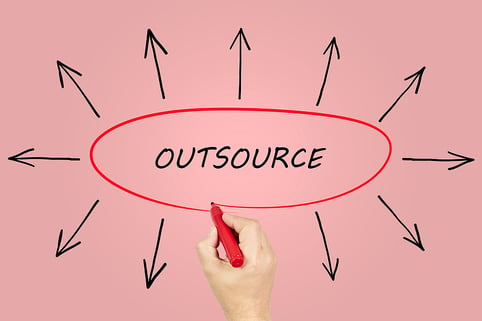 An article in the Sourcing Journal reveals that industrial rents in the California Inland Empire (IE) region climbed 59.6% in the fourth quarter of 2021, while the vacancy rate declined to 0.6%. These statistics continue to make the IE perhaps the most difficult region in the US to find available warehouse space.
Unless your company has very deep pockets and the time and resources necessary to search for that available 0.6% of space, securing your own warehouse in the Inland Empire is next to impossible.
Instead of trying to secure space yourself, however, you can outsource supply chain services to a 3PL provider that already has it. At Weber Logistics, for instance, we have 7 distribution centers in the Inland Empire. Such 3PL providers typically offer shared warehousing services in which you simply use and pay for the space and services you need, while sharing the total warehouse space with other 'tenants.'
2. You can integrate several supply chain services under one 3PL provider. Many companies take a siloed approach to their supply chains. This involves outsourcing warehousing to one provider, transportation to another, and drayage to others. These separate arrangements require multiple system integrations, as well as time and resources spent managing each relationship.
You can instead outsource multiple functions to a 3PL provider that offers integrated logistics services. This integrated approach simplifies your supply chain by giving you one point of contact (and one point of visibility, one point of billing, etc.) for several key services. It also makes your supply chain leaner and more efficient.
Let's say you partner with an integrated 3PL that handles drayage, warehousing, and final delivery services. Such a 3PL can then pull strings to support the movement of your products. Need the warehouse to open after hours to receive an incoming container? Need to bump up an outbound shipment from the warehouse to accommodate a retailer? Your integrated 3PL can do those things seamlessly as it controls all elements of the distribution process.
3. You can lean on 3PL experience to comply with retailer requirements. When you work with a retailer, you – or your logistics partner – must follow the retailer's routing guide, which outlines a very specific set of requirements for shipping orders to them. This includes shipment preparation and either 3rd party carrier pick-up routing or final mile delivery appointment scheduling guidelines that ensure your products are tendered to the retailer exactly in compliance with when and how they require.
Importantly, every retailer's routing guide is different, so you'll need to deliver products in different configurations to different retailers. Routing guide requirements are also continually changing and becoming more stringent, while the penalty for non-compliance comes in the form of increasingly-expensive chargebacks. Many 3PLs have been doing retail compliance for years and can help you meet the requirements, ramp up quickly, and adapt to changes as they occur.
4. You can partner with one 3PL for B2B and B2C distribution. In addition to systems integrations with your retail partners, many 3PLs can also integrate with Shopify, BigCommerce, Magento and other eCommerce selling platforms. As with incoming retail orders, B2C orders flow from the eCommerce platform into the 3PL's warehouse management system (WMS) which then – among other functions – creates an order, modifies inventory, prints labels, and designates a picking path for associates.
Your 3PL is then able to manage and fulfill both B2B and B2C orders from the same pool of inventory. This is vital in today's warehouse-space-constrained market, as it allows you to avoid the expense of paying for space and services for two distinct inventory sets.
Many 3PLs can further sweeten the omni-channel fulfillment deal by offering value-added warehousing services for both sets of customers. These services can include custom packaging, kitting, display building, and inventory postponement.
5. You can partner with one 3PL for multiple transportation services. As with warehouse space capacity, OTR trucking capacity is very hard to come by. This is predominantly caused by the ongoing truck driver shortage, where there are simply too few drivers to meet the freight demand.
3PLs can become invaluable allies in your quest for capacity by offering multiple transportation services such as LTL transportation, dedicated contract carriage, temp-controlled transportation, freight consolidation, and pool distribution.
Some 3PLs, like Weber Logistics, also offer a blend of asset-based and non-asset-based transportation. At Weber, this means that we can allocate our own trucks, drivers and equipment to your operations, but when your needs fall outside of our lanes, we can partner with our national network of transportation partners to get the job done.
Outsource supply chain services to an integrated 3PL provider
If you're looking to simplify your operations while entrusting key pieces of your supply chain to a true expert, now is a good time to consider outsourcing to a 3PL provider. And, if your search brings you to the West Coast, outsourcing to Weber Logistics can be the move that both optimizes and simplifies your logistics operations. Weber is an integrated 3PL that offers port services, warehousing, and final delivery, giving you the opportunity to manage multiple operations under one roof.
To learn more about the benefits of working with an integrated provider, contact Weber today.