If you weren't already convinced of the value of overweight container logistics, 2020 and now 2021 should have made it clear. It's one of shippers' most reliable tactics in mitigating the headaches and extremely high rates associated with the current ocean shipping landscape. In this article, we'll examine these overweight container shipping benefits, with a specific focus on U.S. West Coast shipments.
Overweight container logistics explained
Overweight container logistics is the practice of shipping your freight in fewer containers by loading each container to its max load weight.
If you're like many companies, you've been shipping your products in containers and maxing out the weight at around 43,000 pounds so that they can legally move on U.S. highways. When you do this, you're likely leaving open "air" space in your containers. This unused space can represent wasted spend for your company.
Steamship lines typically provide little or no difference in pricing for heavier (or "overweight") containers of the same commodity on the water. So, you can fill your container up to its max weight without paying any more for the ocean crossing.
The key here is that, by filling your containers to capacity, you'll ship fewer containers and reduce your ocean shipping costs.
How much money can overweight shipping save you?
When you consider that you can fit the contents of 4 standard-weight (i.e., maxed out at 43,000 lbs.) containers into 3 overweight containers, the savings can add up quickly. This is especially important when "steamship rates are "sky high."
In our experience at Weber Logistics, the overall throughput cost for import transportation is typically reduced by 15-20% when shipping overweight. During times of record-setting shipping volumes and high spot rates, your savings could even be greater.
To capitalize on these savings, however, you need a logistics partner that operates close to your chosen port to receive your containers and prepare products so that they can travel on U.S. roadways legally. This includes drayage of your containers from the port to a warehouse, followed by transloading to reduce the container's cargo weight, and then final delivery of that portion of the cargo to the destination facility. The cargo left over from that container can then be combined with the cargo from other containers (typically two) and delivered with another truck.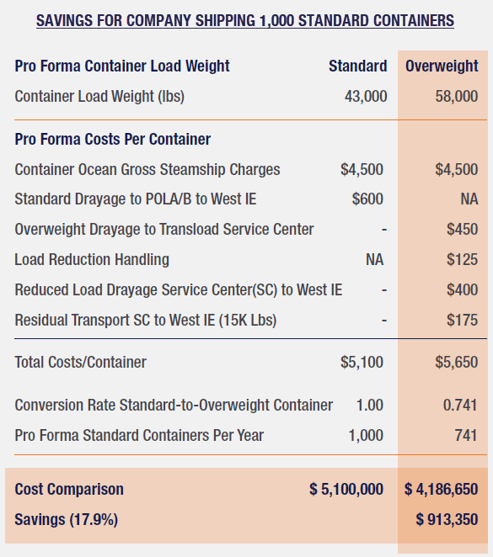 Of course, you will incur additional costs for drayage, transloading and final delivery. However, these costs are significantly lower than the cost savings you enjoy by shipping fewer containers over the ocean. You'll also have fewer containers that need drayage and a reduced reliance on chassis pools – important benefits when ports are busy and congested.
In the inset graph, you'll see that you can ship the same amount of cargo in 741 overweight containers that you would in 1,000 standard-weight containers. This results in a cost savings of 17.9%.
What types of products can benefit from overweight shipping?
Any product that has a high density but can fit within a container is a great candidate for overweight shipping. The following are a few of the more common product types that we see shipping overweight.
Construction-related products like tile, plumbing fixtures, steel products like nuts, bolts and pipes – basically just about anything you would find at a large hardware store.
Lumber and wood products.
Liquid products. The density of liquid makes overweight container shipping a great choice for products like beer, wine and spirits, as well as chemicals and many other products.
Commodities like sugar, flour and grains.
Heavy metals. Due to heavier environmental regulations in the U.S., many companies melt down lead overseas and ship the ingots here for smelting.
What is the California Overweight Corridor?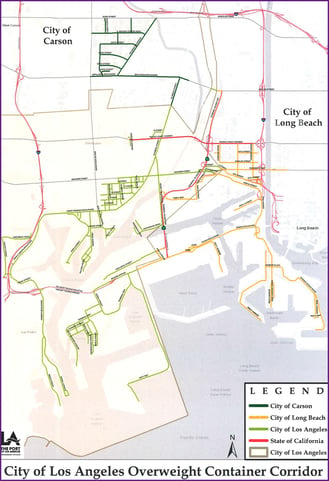 Sitting just outside the Ports of Los Angeles and Long Beach, the Overweight Corridor (also known as the Heavy Container Corridor) is a 4-square-mile grid of local roads in which overweight containers can be moved freely with trucks that have the proper permits.
To dray products within the Corridor, you'll potentially need a tri-axle chassis, a 4-axle (or "drop axle") tractor and permits for each locale the shipment will pass through. This equipment is harder to come by than regular drayage equipment, and acquiring permits can be a time-consuming and expensive process.
Container weight limits as adopted by the State of California and local authorities are as follows.
20' Loaded Containers:
Up to 38,000 lbs. cargo weight requires a steamship line slider chassis, and 3-axle tractor.
Over 38,000 lbs. up to 47,000 lbs. cargo weight requires a tri-axle chassis, and 3-axle tractor.
Over 47,000 lbs. up to 58,000 lbs. cargo weight [80,000 lbs. to 95,000 lbs. gross weight] requires a tri-axle chassis, and 4-axle tractor in the overweight corridor.
40' to 45' Loaded Containers:
Up to 45,000 lbs. cargo weight on a steamship line requires a 2-axle chassis, and 3-axle tractor.
Over 45,000 lbs. up to 58,000 lbs. cargo weight [80,000 lbs. to 95,000 lbs. gross weight] requires a tri-axle chassis, and 4-axle tractor in the overweight corridor.
It may be more cost effective to partner with a 3PL that has the necessary equipment as well as a warehouse within the Overweight Corridor. Such a Corridor-based 3PL provider can pick up your container from the port, transport it to the warehouse, and perform weight reduction, transloading and/or deconsolidation services to get your products on the move without the need for special permits and equipment.
Putting it all together with a 3PL
While there are many 3PLs that perform drayage, there are few that have the equipment and permits necessary to support overweight container moves. There are fewer still that have a warehouse to support those moves within the Overweight Corridor and then integrate drayage with warehousing and transportation services. Such an integrated logistics approach can greatly simplify your supply chain as you eliminate the need for multiple points of contact, billing arrangements, systems integrations, etc.
It also helps your supply chain work harder for you. For instance, if your 3PL is controlling both drayage and warehousing for your company, it can arrange for the delivery of containers – and related warehousing services – outside of normal warehouse hours. It can also better coordinate inbound and outbound deliveries with warehouse operations because it owns the entire process and can orchestrate each component to meet your supply chain needs.
Weber Logistics is one such 3PL. Weber provides an integrated port services/warehousing/transportation solution on the West Coast to move goods from port to market faster. This solution includes 12 distribution centers throughout California – including a Long Beach DC located within the Overweight Corridor and a just-opened 3.7 acre ocean container terminal in Downey, CA – as well as asset-based drayage and transportation services. To learn more about our integrated solution on the West Coast, contact us today.