When importing containers from Asia and other overseas markets, many companies limit their container weights to meet U.S. road weight limits. This is often a mistake as shipping overweight containers can offer you very significant ocean cost savings. In this article, we will examine the benefits of overweight container shipping – and how a 3PL located near your chosen port can help you realize them.
Reduce steamship line costs by shipping overweight containers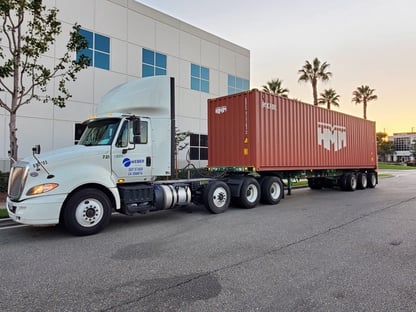 If you're like many companies, you're shipping your products in containers and maxing out the weight at around 43,000 pounds so that they can legally move on U.S. highways. When you do this, you're likely leaving open "air" space in your containers. This unused space can represent wasted spend for your company.
Steamship lines typically provide little or no difference in pricing for heavier containers of the same commodity on the water. So, you can fill your container up to its max weight without paying any more for the ocean crossing.
The key here is that by filling your containers to capacity, you'll ship fewer containers and reduce your ocean shipping costs. When you consider that you can fit the contents of 4 standard-weight (i.e., maxed out at 43,000 lbs) containers into 3 overweight containers, the savings can add up quickly. This is especially important in the current shipping climate where steamship rates are "sky high."
Lean on a 3PL to capitalize on overweight container shipping
To capitalize on these savings, however, you need a logistics partner that operates close to your chosen port to receive your containers and prepare products so that they can travel on U.S. roadways legally. If you are using a 3PL with an integrated suite of port logistics services, that provider will first dray your containers to its warehouse (the provider must have appropriate permits to dray overweight, depending on the locale). At the facility, the 3PL will then perform transloading services to reduce the container's cargo weight. On most highways, the gross vehicle weight (GVW) can't exceed 80,000 lbs, so the cargo is typically reduced to 43,000 lbs. The container is then delivered to your destination facility with that portion of the cargo.
The cargo leftover from that container can then be combined with the cargo from other containers (typically two) and delivered with another truck.
As an example, Weber Logistics routinely handles shipments coming into the Ports of L.A. and Long Beach. Weber 4-axle tractors are deployed to pick up overweight containers at the marine terminal. From there, Weber drays the containers – each still at maximum capacity – through the Overweight Corridor to its transload facility located within the Corridor. That requires special permits, placarding, and driver training.
A look at overweight container costs
Putting it all together, here's a look at the savings you would enjoy by maximizing container weight from an Asian port to an Inland Empire distribution center in Southern California. This chart examines what the costs would be for 1,000 containers, with drayage included.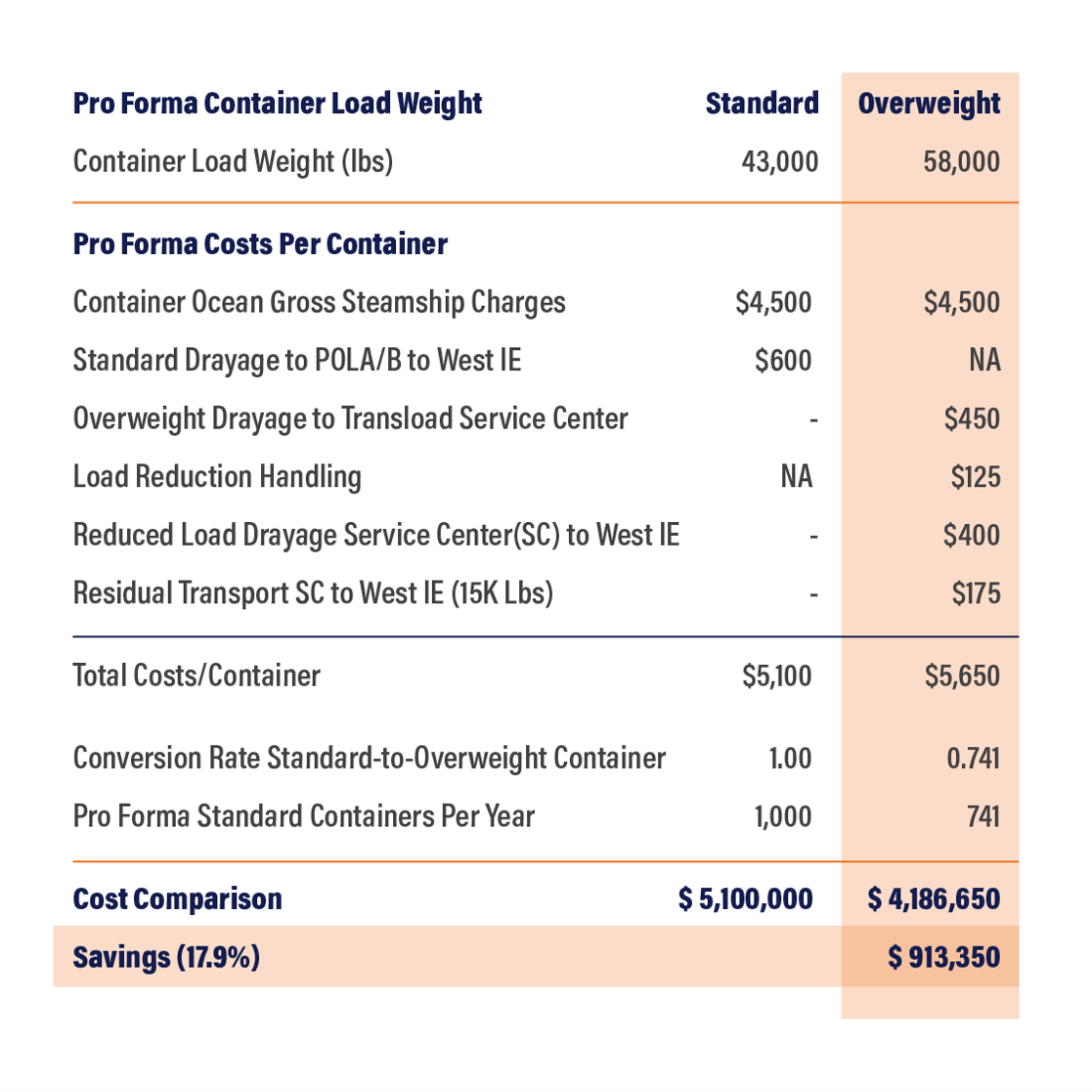 You'll see that you can ship the same amount of cargo in 741 overweight containers that you would in 1,000 standard-weight containers. This results in a cost savings of 17.9%. The bottom line is that the reduction in the cost of ocean freight far outweighs the additional cost required to dray overweight, reduce the load, and deliver the split load to the destination.
Lean on a West Coast 3PL for Asian imports
If you'd like to take advantage of overweight container shipping for Asian imports coming into the West Coast, let Weber Logistics help you make it happen. We perform a variety of port services at all major California ports, including the Ports of L.A. and Long Beach and the Port of Oakland. These services can also be fully integrated with our asset-based transportation services and our warehousing services, which feature over 2.4 million square feet of space across 12 California distribution centers. To learn more about optimizing your import operations, contact Weber today.