The impact of COVID-19 has been felt all along the supply chain. For ocean shipping and import operations, this impact continues to be severe, with ramifications expected to be felt well into 2021. In this article, we'll take a closer look at one of those ramifications – port congestion at the Ports of Los Angeles and Long Beach – and get you up to speed on what's happening at the Ports and what, if anything, you can do about it.
What has caused the port congestion?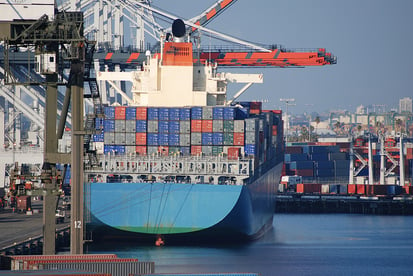 When the COVID-19 pandemic hit, it had an immediate impact on Chinese shipping operations. The steamship lines largely halted operations, and containerized products didn't begin making their way to the U.S. until late March and early April.
Container volumes gradually increased through June and July, approaching normal volumes for that time of year. But, come August the floodgates opened. According to the JOC, Asian imports into the Ports of L.A. and Long Beach set records in August (830,649 TEU) and October (852,103 TEU). Extraordinarily high volumes of containers continue to pour in, with little relief expected until at least the Lunar New Year in mid-February.
As these increased container volumes began to hit the Ports of L.A. and Long Beach, a host of additional factors combined to create an immense logjam. First, due to COVID-related illness and/or exposure, there were significant numbers of drivers and longshoremen out of work for days or even weeks at a time. This meant fewer drayage trucks to receive containers and longer waits for crane operators to unload containers off vessels.
As the containers piled up at the Ports, the steamship vessels had nowhere to unload. The average vessel dwell time off the coast rose to about 10 days before a terminal could receive the ship. There have been as many as 38 container ships sitting offshore at one time waiting for terminal space to free up.
Warehouses throughout the region were also short-staffed due to COVID, leading to slower unload times once containers finally reached the distribution center. On top of that, warehouses simply began to fill up as the amount of product coming in exceeded the amount going out. Containers piled up outside the facilities as they waited to be unloaded. Eventually, many warehouse lots filled up and could no longer take on new containers, which further compounded the pile-up at the Ports.
Of course, these containers outside warehouse facilities were all sitting on chassis – leading to immense chassis pool shortages at the Ports.
To cope with these volumes, warehousing providers sought to secure overflow space. However, the real estate market was tapped almost immediately, leaving many providers unable to expand.
After all this, once a container was unloaded and the empty was ready to be returned, the Ports had no room to take them. Thus, a perfect storm was created with congestion at every point – from offshore to the Ports to the warehouse.
What can you do to navigate this port congestion?
As we are still in the thick of the congestion problem at the Ports of L.A. and Long Beach, there is unfortunately not much that shippers can currently do to get their goods off port quickly. There are, however, a few tips that can help – both now and in the future.
Remain in close contact with your supply chain providers so that you are notified quickly of any opportunities for getting your goods in motion.
Partner with an asset-based drayage provider that owns its chassis. Rental pools become unreliable when ports become congested, so partnering with an asset-based provider will increase the odds of securing capacity. Importantly, you should find out exactly how many chassis the provider owns and how many it uses each month. An owned chassis pool of 1,000 chassis may sound nice, but if the company moves 5,000 containers a month, you may be stuck waiting.
Partner with a drayage provider with an automated appointment system. During situations like these, terminal appointments at the Ports are very difficult to come by. If your drayage provider has an automated system for checking terminal appointments, however, you can greatly improve your chances of getting an appointment slot as soon as one becomes available.
Work with your drayage provider to utilize free-flow stacks at the Ports. With the free-flow program at the Ports, you don't need to wait for an appointment. Instead, the terminal will store your container in a designated area to be picked up when your drayage provider can receive it.
Work with a logistics services provider with ample yard space. As noted above, many warehouse providers have run out of yard space, leading to containers piling up or even being refused admittance to the lot due to lack of room. You can avoid these headaches by partnering with a 3PL that has enough yard space to store high volumes of containers during difficult times.
Consider wheeled container steamship service. Steamship lines offer "wheeled container" service in which you pay for both a container and the chassis. The big upside here is that the line is committed to providing you with a chassis. So, even if the steamship line can't procure a chassis for you right away, it will not charge you demurrage or per diem while your container sits at the port. A wheeled container arrangement will certainly cost more than regular container service. But when you consider that many companies are paying tens and even hundreds of thousands of dollars for demurrage and per diem charges during this congestion event, the extra investment may be well worth it.
While the West Coast port congestion problem may be difficult right now, we will get through it. The most important thing may be to learn from this experience and alter your approach accordingly. After all, this is the second major congestion crisis at the Ports within the last two years. It's not a question of if a major congestion event will occur again, but when. Align yourself with a West Coast 3PL that can help you navigate these and other challenges as effectively as possible.