When it comes to Southern California logistics, there's never a dull moment. The region is home to the busiest ports in the country, while the state continues to dramatically alter the way logistics gets done through an array of unique regulations. In this article, we'll get you up to speed on some of the recent SoCal supply chain developments during the first half of 2019.
Q2 2019 Southern California logistics update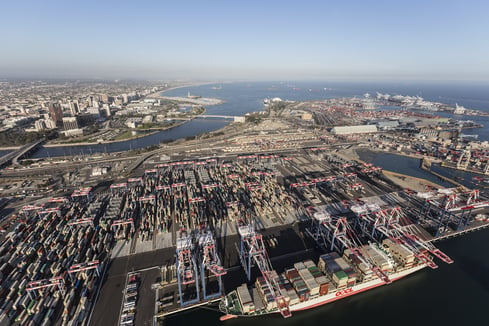 PierPass is now one flat fee regardless of time of day. PierPass – a program implemented in 2005 to reduce congestion and improve air quality at the Ports of Los Angeles and Long Beach – has recently undergone a complete makeover. As of November 2018, the program's once daytime-only fee structure has been replaced by a flat fee that trucks coming into the ports must pay, no matter what time of day or night.
The program originally charged a fee only during the peak hours of 8am to 5pm to encourage shippers and trucking companies to utilize the ports during non-peak times. While the new flat fee is lower than the previous fee – it is now $31.52 per TEU and $63.04 per FEU compared to the previous $72.09 per TEU and $144.18 per FEU – the change has some companies crying foul.
Specifically, companies who acted in the spirit of the original program and altered their schedules to avoid the daytime peak are unhappy that their efforts are no longer rewarded. Companies who must visit the ports during peak hours are happy with the lower rates.
Thus far, the move to the flat-fee structure has not resulted in an increase in peak-period congestion. The main reason is that many carriers now run around the clock, utilizing a "hot seat" approach in which a driver hands his or her truck off to another driver once hours of service (HOS) are exhausted. The trucks, then, are in constant motion which reduces the chances of a major bottleneck at any one time.
Q1 congestion at Ports of Los Angeles and Long Beach has subsided. In late 2018 into 2019, fears related to tariffs on Chinese imports drove importers to make a mad dash to ship product to the U.S. before the "List 3" tariffs took effect. The United States Trade Representative's (USTR) List 3 tariffs – which include product categories not included in the already-tariffed Lists 1 and 2 - went into effect on September 24, 2018 at a rate of 10%. This rate was expected to climb to 25% on January 1, 2019 (it ultimately took effect on May 10, 2019).
As importers front-loaded shipments to beat the expected January 1 date, the Ports of Los Angeles and Long Beach – which handle roughly half of all Asian imports into the U.S. – became overloaded. The ports then ran out of real estate for containers and a bottleneck ensued. Appointments were backed up, and drayage carriers couldn't get to their containers which continued to stack like a game of Tetris. Companies then racked up exorbitant demurrage fees while their unhappy customers were stuck waiting for product for extended periods of time. This ugly situation was further exacerbated by winter storms that clogged rail lines and prevented rail companies from accepting containers off the ports for stretches of time.
Just how bad was it? According to the JOC, container dwell times at the ports averaged 4.32 days in January. Over the last 3 years, the average dwell time is 2.14 days. Truck turn times rose to an average of 98 minutes – not counting, of course, the time trucks had to wait just to get into the ports.
Thankfully, as we sit here in Q2, this crisis is now a thing of the past. Import volumes have come back down to earth as the front-loaded shipments of Q4 2018 and Q1 2019 have reached their U.S. destinations. Ongoing efficiency-boosting efforts by the ports are also starting to pay dividends as increased use of automation and mandatory appointments have led to turn-time reduction.
With continued uncertainty regarding additional tariffs, however, this is a crisis that could very well rear its ugly head again. The core issues that restrict capacity at the port have not been overcome.
Southern California warehouse vacancy is almost non-existent. The good news is that all the containerized goods were able to find their way off ports. The bad news is that those goods had to go somewhere. And, in Southern California, that somewhere is very hard to find.
Nationwide, the warehousing capacity picture is a somewhat rosy one – with more capacity being added than absorbed, a vacancy rate of 4.8% and an asking rent of $6.14 per square foot. In certain areas of the country, like Southern California and Northern New Jersey, however, the warehousing picture is much more challenging. Why? Because these locations are extremely attractive for import processing (due to proximity to ports) and for eCommerce fulfillment operations.
The Los Angeles region currently has a vacancy rate of only 1.5% and an asking rent of $10.43 per square foot. In short, there's very little capacity and the capacity that does exist is very expensive. These factors continue to drive companies to partner with Los Angeles 3PLs that have warehouse space to offer, or to look for space outside of L.A. in the Inland Empire (3.8% capacity; $8.07 per-square-foot asking rent) and other West Coast warehousing locations.
Southern California logistics labor remains hard to come by. Just as warehouse capacity remains elusive in SoCal, so does the workforce to operate warehouses and trucks within the region.
Truck drivers. While we all know that there is a nationwide truck driver shortage, the situation in California is even more challenging. Why? Because in other areas of the country, companies can fill in gaps left by a lack of employee drivers by hiring independent drivers. In California, however, that is now very difficult. The recent California Supreme Court decision in the Dynamex Operations West, Inc. v. Superior Court of Los Angeles effectively did away with independent truck drivers as a classification. The Court ruled that, in the event of any class-action lawsuit, drivers will be presumed to be employees of the companies that hired them and not independent contractors.
This ruling has led many companies to abandon the idea of hiring independent drivers altogether – out of fear that those same drivers can later claim to be employees and sue for hefty sums. Who in California, then, will fill in the gaps already created by the nationwide driver shortage if independent drivers aren't an option? That's a very good question – and one that every logistics provider in the state is working to solve.
The answer lies in hiring new drivers. But this is no easy feat. There are many jobs out there but a much smaller pool of drivers to fill them. This has created a very competitive market for drivers, with companies paying as much as $4/hour more than they did just 18 months ago.
Warehouse associates. The Southern California logistics industry remains one of the most talent rich in the nation. However, competition for warehouse talent among logistics providers has reached a near fever pitch as eCommerce continues to drive demand.
As it has done with many aspects of the supply chain, Amazon has changed the game when it comes to warehouse labor. It offers some of the highest wages in the industry and has reset expectations among associates. This has made it difficult for smaller 3PLs to compete for associates as smart providers choose to meet those market rates for quality workers.
On the flip side, Amazon also has a very high churn rate, leaving the door open for 3PLs to attract associates by offering a balance of high wages and quality of life benefits.


Turn to Weber for Southern California logistics stability
While these stories are certainly interesting and important to your supply chain, reacting to them doesn't need to be your responsibility. At Weber Logistics, that's our job. With 11 locations throughout California, combined with robust asset-based drayage for West Coast ports and transportation services, it is our responsibility to understand the ramifications of the myriad industry and regulatory changes taking place within the state. By understanding these challenges and meeting them head on, we keep our customers' supply chains efficient and compliant, which frees them up to focus on moving their businesses forward. To learn how Weber can lay a stable foundation for your West Coast logistics operations, contact us today.
.