Whether you're changing providers, going from DIY to third party, looking for B2C fulfillment, B2B fulfillment, or both, there is a warehousing 3PL out there for you. The trick is not simply to start 3PL shopping but rather to first identify what you need from a 3PL partner and then find the right one for your business. In this article, we discuss 5 common warehousing-related challenges often raised by brands and how these should drive your partner selection process and, in turn, supercharge your distribution operations.
Problem #1: You can't find warehouse space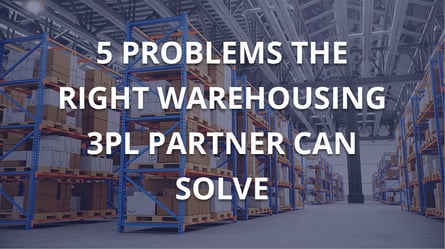 Unlike buying or leasing your own warehouse space, which is historically scarce, partnering with a 3PL provider gives you almost limitless options in terms of location. Wherever you're looking to base your fulfillment operations, there are likely several 3PLs that are already there with shared or dedicated space that meets your needs
In California, for example, importers must decide between being closer to the ports (e.g., near the Ports of Los Angeles and Long Beach) or further away (e.g., the Inland Empire). Weighing each option typically looks like this:
Closer to the ports: Higher costs for warehouse space and services; lower costs for drayage due to shorter distance from ports; buildings are generally older.
Farther from the ports: Lower costs for warehouse space and services; higher costs for drayage; buildings are generally modern with higher ceilings and newer more sustainable amenities.
If you're running a high-velocity transload center where you're bringing in thousands of containers a year, then being close to the port where products can flow in and out quickly probably makes the most sense. If you import at lower volumes, then being farther out may make more sense, but there are many other factors to consider
If your business is mostly B2C, however, then you're more concerned about parcel rates between zones than you are proximity to the ports.
The bottom line: 3PL providers already have warehouse space in your desired markets, allowing you to base logistics operations wherever you prefer.
Problem #2: You can't find – or keep – warehouse labor
Just as warehouse vacancy rates are historically low, it has never been more difficult to attract, hire and retain warehouse workers.
This is because the need for warehouse workers has never been greater primarily due to the continued rise of eCommerce and the post-pandemic work-from-home labor market. As warehouse pick and pack operations are labor-intensive, the need for workers is historically high. This need has bred previously unseen levels of competition among warehouse companies vying for talent, between each other and with other industries.
Companies are offering higher wages, sign-on bonuses, and better benefits packages to get new employees on board. 3PLs are chief among the competitors in this fray, but most 3PL providers have the advantage of dedicated HR and recruiting staff solely for this purpose. Unless you have the same capabilities, it may be in your best interest to partner with a 3PL that can handle this on your behalf.
In finding the right partner, however, you'll need to ensure that your 3PL's offerings can match those of their competitors. If your 3PL is having a hard time attracting and retaining employees, then the warehouse services the 3PL handles for you are going to be negatively impacted.
The bottom line: Labor recruitment, hiring and retention are core 3PL competencies. Be sure to ask prospective partners about staffing levels, including the all-important employee retention rate.
Problem #3: You find it difficult to staff operations due to volume fluctuations
Another way your 3PL can offset labor-related headaches is to have sufficient employees that it can address service gaps by pulling workers from other projects. Having a network of warehouses within a relatively close proximity to one another (i.e., a warehouse campus) allows your 3PL to do just that.
For example, if your 3PL has 3 or 4 buildings within 5 to 10 miles of one another, each facility is going to have different peaks and valleys in terms of activity. When one facility is going full throttle, others may be a bit slower. With several DCs close to one another, your 3PL provider can shift employees from one facility to another as needed.
Importantly, this should not result in a drop-off in service quality as all employees across the network have experienced the same training and typically use the same WMS and MHE. 3PLs will often cross train employees on different customer accounts for this very purpose.
This 'warehouse campus model' has a few additional benefits. For one, it ensures that the 3PL's workers remain actively engaged and are regularly working on high-volume business. It also prevents the 3PL from dismissing workers during slow periods. This is key as there's no guarantee in this climate that the 3PL will be able to staff up as quickly as is oftentimes needed.
Lastly, this model is invaluable in the event of a natural disaster or other type of emergency. Should such an event occur, the 3PL's workers – along with client product – can be repositioned as needed.
The bottom line: Some 3PL providers have warehouse campuses in which they can reallocate workers to different facilities based on volume needs.
Problem #4: Retailer chargebacks are hitting you hard
When your customer is a retailer, you – or your logistics partner – must follow the retailer's routing guide, which outlines a very specific set of requirements for shipping orders to them. This includes shipment preparation, routing, labeling, and final-mile delivery scheduling guidelines that ensure your products are tendered in-line with retailer specifications.
Importantly, every retailer's routing guide is different, so you'll need to deliver products in different configurations to different retailers. Routing guide requirements are also continually changing and becoming more stringent, while the penalty for non-compliance comes in the form of increasingly-expensive chargebacks. It's not uncommon for companies to receive tens or hundreds of thousands in chargeback fees per year for merchandise that does not meet retailer guidelines.
Many 3PLs have been doing retail compliance for years and can help you meet the requirements, ramp-up quickly, and adapt to changes as they occur. When your 3PL already works with your retailer partners vis-à-vis other clients and is adept at routing guide compliance for those retailers, your 3PL can apply that knowledge to your operation.
Of course, there will be characteristics unique to your business, but it's a much smaller mountain to climb for a 3PL already familiar with your retailers to ensure that your distribution operations are compliant.
The bottom line: Some 3PLs are already compliant with your retail vendors on behalf of other clients and can apply this knowledge and experience to your operations.
Problem #5: Having multiple logistics partners makes outsourcing unwieldy
Companies looking for supply chain optimization may do well to rely on fewer partners not more, while maximizing the ownership of each in terms of supply chain responsibilities. Such an approach can save both time and money as there are fewer handoffs between companies, fewer systems that you need to integrate with, and fewer points of contact to manage.
For each service a 3PL offers, there are often many value-added capabilities that can accompany it. For example, a 3PL that offers warehousing may also provide a host of value-added warehousing services that can be integrated into their offering. These can include everything from kitting and inventory postponement to display building and repackaging.
On a larger scale, some 3PLs provide related services that deliver an integrated supply chain approach. At Weber Logistics, for example, we offer warehousing, transportation and drayage services. These services are integrated to deliver you one point of contact (and one point of visibility, one point of billing, etc.) for several large chunks of your supply chain.
Your integrated 3PL is then able pull any strings necessary to support the movement of your products. Need the warehouse to open after hours to receive an incoming container? Need to bump up an outbound shipment from the warehouse to accommodate a retailer? Your integrated 3PL can do those things seamlessly as it controls multiple elements of the distribution process.
The bottom line: Integrated 3PL providers can simplify your operations, including systems integrations and lines of communication.
Does your 3PL "get" you?
However you arrived at the decision to turn to a 3PL warehousing partner, you likely reached a tipping point where handling warehousing, fulfillment and distribution yourself isn't worth the necessary time, money, and resources. You're therefore ready to hand-off these key supply chain operations to a 3PL that specializes in these areas.
In an increasingly challenging supply chain environment, this can be a liberating move that frees up time and resources to focus on what you do best. But it's also important that you don't get lost in the process.
Your warehouse 3PL should be a true extension of your business, working in lockstep with you to deliver customized solutions based on your unique needs. So, while you look for all the necessary deliverables and service offerings your 3PL has to offer, don't forget to find one that fits seamlessly into your culture and truly "gets" your business.