Weber Logistics has been named to Inbound Logistics' 2023 list of the top 100 3PL providers. Weber, a provider of integrated, agile supply chain solutions, was selected out of a pool of hundreds of US 3PL companies. This is the third time that Weber has received this honor in recent years.
About the IL Top 100 3PLs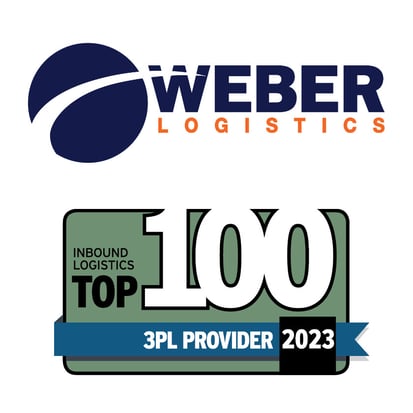 Supply chain growth is the theme of this year's edition from Inbound Logistics. According to the publication, "Outsourcing supply chain, logistics and transportation solutions to a trusted partner is never more important to prepare companies – or position them – for times of growth. The Inbound Logistics audience continues to challenge third-party logistics providers to help them manage growth, efficiently meet demand, and improve service, all while holding down costs."
The ability to position companies for growth has only become more challenging in the wake of the pandemic and the supply chain disruptions of the past several years. COVID introduced an unprecedented cascade of congestion and interruptions in supply and demand. Those that survived bounced back with a keener appreciation for supply chain resilience and the need to be ready for what's around the corner.
For Weber Logistics, the ability to support a client's growth in this environment comes down to the ability to stay agile during – and in advance of – changing market conditions.
Support Supply Chain Growth with 3PL Agility
Today's level of supply chain volatility makes it difficult for consumer brands to plan and run efficient distribution operations, let alone grow. The help they need can come from 3PL partners agile enough to adapt to changes in real-time – and still run highly efficient product distribution operations.
True agility requires both the resources to get the job done and the ability to move fast. Most 3PLs can do one or the other, but not both.
Weber Logistics prides itself on being the mid-sized 3PL in the sweet spot – large enough to get the job done, but small enough to move fast.
Supply chain agility is a business capability that requires investments in the people, systems, and logistics infrastructure to execute on the intention. The following is a glance at those key items.
PEOPLE
Experts who optimize, as well as execute, the work. Agile 3PLs analyze performance data to spot troubling trends before they become problems.
In-house IT staff. An agile 3PL will have an internal IT team that can handle projects like systemic integrations in days and weeks, not months.
SYSTEMS
Automated warehouse processes. An agile 3PL is willing to invest in automation on your behalf.
Analytics and reporting. Agile 3PLs will give you direct access to the data you need from their operating systems and provide user-friendly reporting that can be customized to your exact data needs.
INFRASTRUCTURE
Warehouse and transportation assets. An asset-based 3PL can more readily commit capacity to scale distribution operations – with trucks and chassis for drayage, warehouse space, or its own delivery fleet.
Integrated services. An agile 3PL will integrate multiple services to create a faster, seamless product flow – from the port to the warehouse to the final consumer.
One underappreciated advantage to working with truly agile 3PLs is their ability to support growth and confidently commit to time deadlines. Think about the power that affords you in your logistics role.
The power to say "yes."
Marketing wants to know if you can double order throughput to support a week-long summer promotion. YES.
Your biggest retail customer asks if you can create 25,000 kits in 2 weeks for a holiday gift promotion. YES.
Purchasing asks if you can find 10,000 square feet of space to support a short-term inventory build-up. YES.
To support growth now and in the future, look for a 3PL that is willing to make sound investments to create a product distribution infrastructure that's ready for anything. To learn more about agile supply chain solutions, check out the new Weber Logistics eBook, Agility: The New Logistics Superpower. And to learn more about the ways that an agile 3PL can supercharge your business, contact Weber today.