To provide a warehouse pricing quote, most third party logistics providers (3PLs) use profile worksheets. Each 3PL has its own worksheet, but the approaches are similar.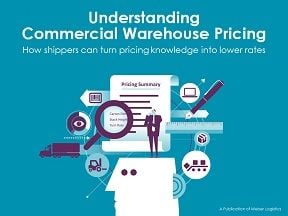 At Weber Logistics, we look at a variety of data, including product volume, case size, pallet size and weight.
Understandably, shippers often can't provide all the details requested. That can make it quite difficult, and sometimes impossible, to calculate a rate of any kind, much less an accurate ready.
Here are some actual shipper responses to worksheet questions that we have received:
"I'm not sure about the number of pallets, but it's 25,000 pounds."
"I don't have access to this information. Would need to talk to the systems department to get it, and they're busy."
"I think it will be 500-1,000 orders a day, I think."
"I don't have any of this data, they just asked me to find a warehouse in your city."
"For number of orders, just use the average orders for your others customers who are like me."
"Can I just be charged one all-in rate no matter what the volume, (I don't really know the exact volume)?"
Hey, we get it. Shippers may not have ready access to all the details 3PLs may need in order to provide an accurate cost of warehousing (whether dedicated or public warehousing). But uncovering this data will get you a more accurate price.
Here's an example. Let's say a shipper does not know if products can be stored 2 pallets high or 3 pallets high. If the 3PL needs to charge $15 per pallet footprint, then the rate for 2-high storage would be $7.50 per pallet, per month. But if the product can be stored 3-high, the rate would drop to $5.00 per pallet, per month.
Warehouse costs can make up a large part of your logistics budget, so obtaining accurate and competitive warehouse pricing is critical. To read more about the cost of warehousing, read our eBook: "Understanding Commercial Warehouse Pricing." In it, we go into some detail on how warehousing rates are calculated and, more importantly, what you can do to impact and reduce these costs.