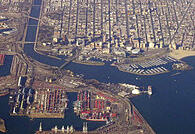 Your container is at the port. Now what? Receiving your goods in a timely and economical fashion is paramount, whether your goods are for further production or for distribution locally or country wide. There are many aspects of getting your container to your chosen facility from the Port. The Ports of Los Angeles and Long Beach present particular challenges since these ports handle nearly 40,000 TEUs per day. Even on a slow day, the web of roads to retrieve them are congested and complex.
For more information on the challenges of port logistics in Southern California, read our white paper: Logistics Guide for Importers: What to Do After Your Product Clears Customs.

5 Reasons to Use An Experienced 3PL for Port Logistics

1) Focus on your core business. Trying to coordinate container movement from the port to the warehouse is very expensive if importers choose to manage this internally. Investing in people and equipment eats up resources that do not relate to their core business.

2) Leverage proven, efficient solutions. 3PLs have knowledge of the Marine Terminal Operators (MTOs) at each port, which is an added asset when collecting containers. Appointed by the Steamship Lines, MTOs have different levels of efficiency that only an experienced 3PL can recognize and adapt to. The idiosyncrasies that exist are overcome by the expert to get your containers moving faster to destination.

3) Avoid delays and possible fines. Things like overweight containers can be addressed by an experienced 3PL with proven solutions. Knowing key information such as regulations and terminal procedures and how to navigate the port complex make the right 3PL provider a safe and economical choice.

4) Avoid unexpected costs. For instance, upcharges for peak hour deliveries can be avoided if containers are picked up off hours.

5) Improve service and get goods to market faster. Actual drayage rates are important, but these costs are dwarfed by those associated with stock-outs and unhappy retail customers. Choose a partner that is in and out of the ports multiple times daily and understands the keys to getting containers off port quickly.

The volume of containers received at Southern California ports can make things chaotic even for the best of drayage companies. But unexpected events that arise can be easily overcome by using a partner that has encountered them previously. Choose wisely when you choose your port logistics 3PL provider.

Weber Logistics is based in Southern California and has been providing port services for decades. We provide a full range of port logistics functions as well as distribution, warehousing and inland transportation. Contact us on the web or call 855-GO WEBER (469 3237) to learn more about how we can help.