In the supply chain, there is sometimes confusion about what is transloading and what is cross docking. The strategies are different, but both work to accomplish the same goal – to reduce supply chain costs. Crossdock services and transload services both include handling the product and delivery to multiple destinations on a different truck or container than the inbound shipment.
With more companies setting up manufacturing or suppliers abroad, inbound ocean containers have increased and are expected to continue to do so. West coast ports - like the ports of L.A. and Long Beach which account for 40% of all imports from Asia - continue to set new volume records with each passing year.
What is transloading?
Transloading services transfer container cargo from one load unit to another. When a container is transloaded, it usually occurs at a facility that is close to a port terminal.
A container will be taken into a facility and transferred to a domestic container or truckload. During the transload process, the product is often palletized at the facility since many of the 20-foot or 40-foot ocean containers are floor loaded. Inventory and transportation cost savings are achieved by switching to a truck from a container, however there remains a concern for delays at the port, damages, and theft.
What are crossdock services?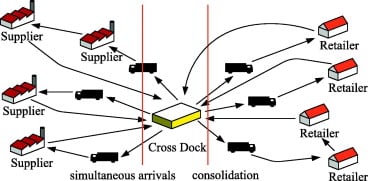 Many major retailers, such as Wal-Mart, have utilized crossdock services within their own DCs to handle individual stores by consolidating multiple inbound trucks to outbound less-than-truckload or truckload shipments to individual stores.
Crossdock services involve unloading products/goods from a truck or container directly onto another truck for delivery. Items are not put away but merely staged near dock doors to await loading. Therefore, there is little to no storage, and turnaround time between receipt and shipment is usually less than 24 hours.
This rapid turnaround requires excellent communication and coordination among 3PLs, carriers, and shippers. Electronic feeds must provide data on the contents of the inbound load, when it will arrive, and when pickup should occur. Lack of timely and accurate data leads to supply chain delays and inefficiency, undoing the benefits of a crossdock strategy.
Boost distribution speed
Speed to market is a key ingredient to an efficient supply chain. Transload and crossdock services deliver this benefit by consolidating products and shipping directly to the final customer, without incurring the costs and delays associated with storing product at a warehouse.
Both transload services and crossdock services can include product customization, such as labeling and kitting, at the warehouse/crossdock facility. With continued advancements in computer technology in the supply chain, transload services and cross dock services have become more efficient and will continue to gain momentum.