Looking for a Southern California distribution center for your products? Let's go on a tour of the region's 1.7 billion square foot industrial real estate market, the biggest industrial real estate market in the world.
Sit back, relax, and enjoy the beautiful Southern California weather…
You will definitely need a car for our tour. The Southern California region is bigger, in area, than many states, including Rhode Island and Delaware. So we must divide the industrial market into 4 separate regions: Los Angeles, Orange County, Inland Empire, and what we call The Submarket.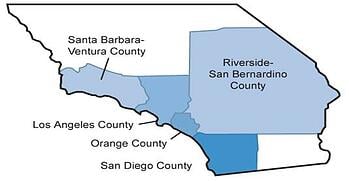 To start our tour of the Southern California distribution center market, you should know that the primary drivers of the region's popularity as a distribution hub are its proximity to the ports and large population. Southern California is home to the nation's 2 busiest seaports, The Port of Los Angeles and the Port of Long Beach. 40% of all imported product into the U.S. flows through these 2 ports. In 2012, The Los Angeles-Long Beach port complex handled a total of 14.1 million 20-foot-equivalent units (TEUs). The next highest volume port, New York-New Jersey, handled a little over 3 million TEUs.
With over 40 million residents, California is the most populous U.S. state. Los Angeles County alone is more populous than 42 individual U.S. states. As a result, nearly 50% of the product that is imported into Southern California ports ends up being consumed in the region.
Four key factors drive the decisions of retailers and 3PLs on where to locate their distribution facilities: 1) Proximity to the port, 2) Land and labor costs, 3) Outbound transportation costs, and 4) Inventory turns. A rule of thumb is that the quicker your product turns and the higher value it has, the closer you should be to the port. The slower your product turns and the more storage space you need, the further you should be from the port.
Here is a high-level review of each region within the Southern California industrial real estate market.
Los Angeles. The Los Angeles region is within a 25 mile radius of the Ports of LA and Long Beach. The size of the industrial real estate market here is approximately 350 million square feet. Because it is closest to the water, real estate and labor costs are highest in this region. The big benefit to locating your Southern California distribution center here is lower drayage costs from the ports.
The downside is that this region has the highest real estate costs and higher labor costs, plus the region is mature and built out. Class A warehouse facilities of 300,000 square feet or larger are virtually non-existent. Retailers, 3PL's, and importers that distribute from this region typically turn their inventory faster (at least 8-10 times per year), have higher value products, and require less than 300,000 square feet of warehouse space. Sony Electronics has a Distribution Center (DC) in this region. Popular distribution cities include Carson, Rancho Dominguez, San Pedro, Santa Fe Springs, South Gate, and Torrance
Orange County. This region, south of LA, is within 25-50 miles of the Ports. Industrial real estate space totals about 350 million square feet. Everything mentioned about Los Angeles applies to Orange County. However, certain pockets of Southern Orange County do have Class A warehousing facilities. Many of the companies that have big DCs in this area also have their corporate headquarters here, too. For example, Irvine, CA is home to retailer Tilly's corporate office, as well as one of the company's large DCs. Popular distribution cities in this region include Anaheim, Buena Park, Brea, Foothill Ranch, Fullerton, and Irvine.
The Inland Empire. This huge distribution hub is located about 50-80 miles east of Los Angeles-Long Beach. At 1.1 billion square feet of space, the Inland Empire dominates the big-box market in the U.S. This is a direct result of space constraints in the coastal California cities, as well as the higher cost of commercial real estate in those cities. The availability of quality, Class A distribution facilities of 300,000 square feet or larger is good.
Drayage costs are about 30% higher to this region versus Los Angeles/Orange County, but real estate costs are about 30% lower and labor costs are lower due to a lower cost of living. Additionally, the Inland Empire is blessed with easy access to freeways, rail yards, airports and intermodal transportation infrastructure. High-profile retailers such as Wal Mart, Target, and Kohl's all have big box DCs in this region of Southern California. In fact, Walmart's 100-door facility here is the country's largest cross dock. Popular distribution cities in this region include Chino, Corona, Fontana, Mira Loma, Ontario, and Rancho Cucamonga
The Submarket. This region is furthest from the ports at 80 plus miles. Real estate costs are lower than the Inland Empire, however drayage costs are higher. When the Inland Empire gets tight or a customer needs a "mega DC" over 1 million square feet, interest in this region picks up.
For example, in 2000 retailer IKEA opened a 2 million square foot DC in Tejon Ranch, just over 100 miles north of the LA/Long Beach ports. Skecher's Footwear recently opened a 1.82 million square foot DC in Moreno Valley, just over 80 miles east of the ports. This Southern California distribution center is so big that it takes over 30 seconds to drive from one end to the other – at 60 miles per hour!
Although over 120 miles south of the Ports, San Diego continues to grow in popularity as manufacturers shift production away from China to Mexico. When shippers consider San Diego, the focus shifts from distance from LA/Long Beach to distance from the U.S./Mexico border. Popular distribution locations in this Submarket region include: Colton, Hesperia, Moreno Valley, Perris, Redlands, Rialto, Riverside, San Bernardino, and Victorville
And that concludes our tour of the Southern California distribution center regions. Hope it gave you a sense of the PROs and CONs of each distinct region.