The current driver shortage affects every mode of trucking, port drayage included. What you may not realize, however, is that this shortage of drayage drivers is not new – it didn't begin with COVID-19 or even in the years leading up to the pandemic. In this article, we'll examine the reasons for the truck driver shortage among drayage drivers and tell you why your transportation provider's culture is key to sourcing the capacity you need.
Why is there a shortage of drayage drivers?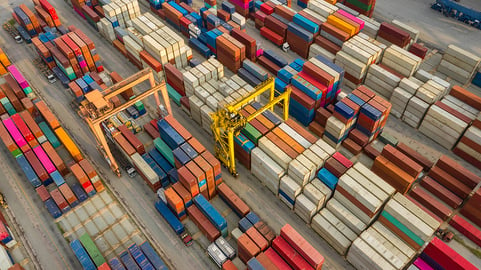 The short answer to this question lies in supply and demand. There are simply more products that need to be drayed than there are port drivers to dray them. Some of the reasons for this are similar to reasons for the driver shortage in general, while others are more specific to drayage drivers.
The answer to capacity challenges = culture
Now that you understand how we got to where we currently are with the drayage driver shortage, you still have freight coming into port and you need it to move. So, what do you look for in a drayage provider to ensure that it can get the job done?
The answer – as trite as it may sound – is culture. Without drivers, goods don't move. And without a solid company culture, a carrier can't attract and keep drivers. That's why you need to look closely at the driver retention rate of your drayage carrier partner and whether it has a company culture that is likely to sustain a stable corps of drivers. If it does, it follows that such a provider will be better able to service your freight now and in the future.
Some key questions to ask of your provider include the following.
Does the provider hire its own workers or solely rely on independent contractors (which, again, is a risky proposition in many parts of the country)?
Does the provider pay its drivers a fair wage that is commensurate with industry rates?
Does the provider provide medical, sick time and vacation benefits to its drivers?
Does the provider have newer, cleaner, and more comfortable trucks and equipment?
These are the things that matter to drivers and so they should matter to you as you look for a provider. If your provider offers these and similar perks, it likely has a driver-friendly culture that people want to be part of. It also means that the provider may be more successful in luring drivers away from other modes of trucking to handle drayage.
At Weber Logistics, we understand that our employees are the lifeblood of our organization. We can't do anything without them, and we go to great lengths to keep them happy and engaged in their profession. This means doing the small things, as well as offering the bigger benefits described above.
For instance, drayage driving can be a real grind with hours spent sitting still at ports or in highway traffic. We understand this. So, when a driver comes in from a long, hard day of work and needs to vent, our dispatch team is there to listen. It's little things like this that make all the difference between happy and unhappy drivers.
To learn more about Weber Logistics' culture and the lengths we go to attract and retain drivers to support your business, contact us today.