How can you reduce warehouse labor costs by paying more to warehouse workers? Simple: Don't pay everyone more, just the peak performers.
I'm talking about incentive pay. Companies that have implemented "pay-for-performance" in warehouse and other types of operations have seen significant productivity gains. More throughout with fewer people means greater profit.
Pay for performance (P4P) is not a new idea to drive warehouse productivity, but it's becoming a more popular strategy as the job market tightens, particularly in hot distribution markets. For instance, in the Inland Empire region east of Los Angeles, where Weber Logistics operates multiple facilities, Amazon.com just hired 1000 people to staff a new distribution center. To win the battle for talent, you need to give the best people reasons to choose your company over other options they might have . Few reasons are better than more money in the paycheck.
Benefits of P4P include:
Lower costs through efficient warehouse operations
Retain your best performers
Weed out your poor performers
Create an easy tool for management to evaluate and recognize top performers
Interestingly, a recent study by the Institute for Corporate Productivity found that, in high-performing organizations, the primary motivation for starting P4P programs was to recognize and reward high performers. Improving productivity was a distant third on the list.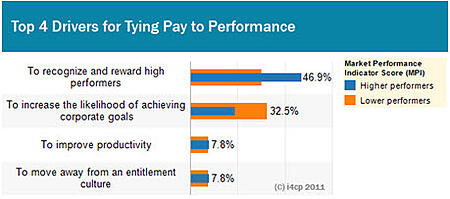 Implementing P4P in a warehouse environment requires careful preparation and implementation by knowledgeable professionals. Here are tips to prepare your organization for P4P.
Set fair and accurate standards for work performance. That means doing an engineering analysis to set productivity goals. For objectives like "cartons per hour" for pick-pack type accounts, associates need to believe that the standards are fair and can be accurately measured.
Make sure the program is simple to measure and administer. That means having warehouse management and labor management systems that automatically track performance based on associates' normal activities, such as scanning cartons, pick and pack, loading products on trailers etc. Ideally, you don't want to create extra work for the associate to enable measurement. Standard system reports should provide the data you need to calculate whether associates are above or below standard.
Consider starting with a "pilot program." Initial kinks could be addressed by rolling out P4P in one area/facility versus a full blown company-wide roll out. If the proper systems are not in place, consider delaying any P4P initiative until they are.
Consider all indicators of warehouse work performance – the BIG FOUR. The BIG FOUR are attendance, quality, safety and productivity. If an associate excels in the productivity area but his attendance is spotty or he has safety violations, he should not be eligible for incentive pay. Requirements for all four areas must be clearly spelled out in the P4P program description and associates must understand when actions unrelated to warehouse productivity will impact incentive pay.
Calculate the ROI. Before investing in the systems and resources required to implement P4P, assess productivity gains you feel are possible and then calculate the bottom line impact of the program over time. Compare these results with required investments to calculate a timeframe when the business can expect to pay off the investments and begin realizing the full profit benefit of the program.
Yes, paying warehouse workers more can actually decrease your labor costs. But before moving forward with a P4P program, make sure you have the resources to establish objective performance standards and the systems to easily measure performance.