When companies seek to optimize their eCommerce operations, they're generally looking to do two things: improve distribution speed and reduce costs. These factors of speed and cost are affected by many factors, including the location where fulfillment services are performed. In this article, we'll take a closer look at the advantages of West Coast eCommerce fulfillment and show you how – when it comes to speed and cost – the West may very well be the best for your operation.
Get to Market Faster with West Coast eCommerce fulfillment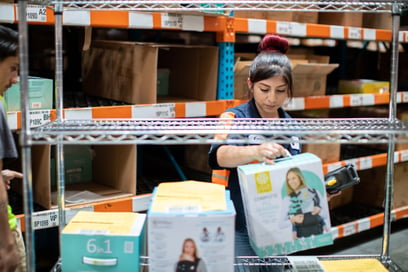 Now more than ever, eCommerce customers want their products quickly. But you can't do that if you don't have them in your inventory to begin with. For the many companies that import product from the Pan-Pacific region, ocean transit time is thus of great importance.
The quicker transit time from Asia to the West Coast is a major advantage that you gain by basing your fulfillment operations in the West. For instance, a container shipment from Hong Kong to the Port of New York/New Jersey will take 34 days over the ocean. On the other hand, a shipment from Hong Kong to the Ports of Los Angeles and Long Beach takes only 20 days.
This time-savings of 14 days can have a profound impact. Let's say you're selling a hot new electronics device that's coming in from Asia. Having a 14-day jump on your East Coast rivals can give you a major advantage. Similarly, if you run low on a given product, waiting 20 days for replenishment is much more palatable than 34.
It's no surprise then that about 67% of Asia-to-U.S. imports come into West Coast Ports
The speed advantages continue once your product is in its West Coast fulfillment center. According to the U.S. Census Bureau, the Western region is home to over 78 million people, or about 25% of the population. That's a lot of consumers that can be reached with one- to two-day parcel service you're your warehouse.
Save Money with a West Coast eFulfillment Center
As with speed, basing your eCommerce fulfillment operation on the West Coast comes with distinct cost advantages. And, also like speed, these advantages start over the ocean.
While the 20-day transit time from Hong Kong to Los Angeles can be a major speed advantage, it's also a cost advantage. Why? Because fewer days on an ocean vessel results in lower ocean shipping costs.
In terms of the landside location of your West Coast eCommerce fulfillment center, California offers attractive options with varying cost ramifications.
Los Angeles area warehouses are close to the Ports of L.A. and Long Beach, so your drayage costs will be low. However, expect to pay more for space here than in other regions of the state.

Inland Empire warehouses are a bit further from the Ports, so your drayage costs will be higher than with an L.A.-area warehouse. However, the space and services charges are much lower in the Inland Empire than they are closer to L.A.

Further north, Central Valley warehouses are located just East of the San Francisco Bay Area – right in the middle of the West Coast. Drayage costs from the Port of Oakland will be similar to those from the Ports of L.A. and Long Beach to the Inland Empire. However, space and services costs are significantly lower than those for both L.A. and the Inland Empire.
Another cost-related advantage of California fulfillment is the labor pool in the state. All three regions mentioned above – L.A. and Inland Empire especially – are home to a large and experienced logistics labor pool. This is important since attracting, hiring, training, and retaining employees has as much to do with a fulfillment operation's success as any other factor.
Turn to a 3PL for West Coast eCommerce fulfillment
If you're looking to establish a fulfillment center on the West Coast, you can of course build and/or lease one yourself and handle staffing and all operational components in house. Or, you can entrust the entire operation to a third-party logistics (3PL) provider that already has a full eCommerce fulfillment infrastructure in place.
The advantages of handing over the reins to a West Coast 3PL fulfillment provider include:
3PLs are located where you want to be. Wherever you'd like to base your fulfillment operations, there are 3PL providers already there with a full logistics infrastructure in place.

3PL services can result in immense savings. With a shared warehousing model, you pay only for the space and services your operation requires. This offers substantial savings versus building/leasing and staffing an entire facility yourself. For example, the cost of warehouse management system (WMS) software alone can cost well into the six figures.

3PLs can handle multi-channel fulfillment. If you have retail customers in addition to eCommerce, many 3PLs are experts at handling both operations simultaneously.
With 12 warehouses across California, Weber Logistics has the eCommerce fulfillment infrastructure to support your operations in the region. We can scale our services to meet your highest and lowest volumes, while getting your operation up and running quickly – in weeks not months. To learn more about the benefits of working with a West Coast eCommerce fulfillment expert, contact Weber today.