With its huge and growing population, California often serves as a key location for a company's overall distribution operations. It's usually Southern California – with its bright lights and huge ports – that people consider to be the region's logistics hub. But with each passing year, more and more companies are learning about the benefits of basing operations a bit further north.
Let's take a closer look at one of these major logistics markets – Stockton – and why a having a warehouse in Stockton could reduce your costs and improve overall distribution operations.
4 reasons to consider warehouse operations in Stockton
While it doesn't have quite the hustle and bustle of Southern California logistics, there are many reasons why Stockton may be a better fit for your business. Here are four of the basics: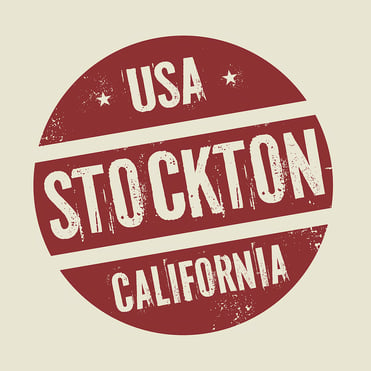 1. Prime location. Stockton, California is located within the San Joaquin Valley, which is itself part of the larger Central Valley in the state. The Stockton area is the third-most-populated metropolitan area within the San Jose–San Francisco–Oakland, CA Combined Statistical Area, which contains nearly 10 million people.
Stockton is located roughly 60 miles from the Port of Oakland – a top-10 U.S. port in terms of volume – and is also home to an inland port of its own: the Port of Stockton. While not as big as the state's major ports, this port, with a deep-water channel, has enjoyed record volumes in recent years.
But it's not just proximity to the ports and the Bay Area that make Stockton attractive, it's the proximity to the rest of the West Coast that serves as a major selling point for many companies. Stockton is located south of Sacramento and East of San Francisco, placing it smack dab in the middle of the state. This central location allows for distribution down to L.A. or San Diego, up to the Pacific Northwest, or to major metropolitan areas east of California within one day over the road. In contrast, freight from Los Angeles will take two days to get up to the Pacific Northwest and to many points East.
2. Lower warehousing space costs. When companies begin to look for California warehouse space, they quickly realize that it can be prohibitively expensive to pay for warehousing close to the ports of L.A., Long Beach and Oakland – even when accounting for the shorter drayage distances. Many companies then quickly turn their attention to two places: the Inland Empire and the Central Valley.
While farther from the ports – and thus more expensive in terms of drayage – these regions have historically been home to much cheaper warehousing rates than their closer-to-port counterparts. In recent years, however, the term "much cheaper" is becoming less and less applicable to the Inland Empire.
The industrial real estate market within the Inland Empire has become increasingly tight and competitive, with prices not too far from the metropolitan rates companies originally sought shelter from. According to Colliers, the average rental rate for industrial space within the greater Los Angeles area is above $0.84 per square foot – a new record. The Inland Empire sits not too far behind at $0.70 per square foot – an increase of about 15% over the last 12 months.
Fortunately, there is no such concern in Stockton. The average industrial rental rate within the San Joaquin Valley currently sits at around $0.54 per square foot, making Stockton a true cost-saving alternative.
3. Greater warehousing availability. In looking at warehouse availability, a similar trend to warehousing cost emerges. The major metropolitan areas (L.A., Long Beach, San Francisco, Oakland) have less available space, which drives companies to look to the Inland Empire and Central Valley. And, again, Stockton and the Central Valley emerge as the clear favorites.
According to the same Colliers reports, Los Angeles currently has a vacancy rate of only 3.0%. The Inland Empire is not much better at 3.5%. Stockton currently has plenty of available space, with the high vacancy rate of 7.2%.
Importantly, construction continues within both the Inland Empire and the Central Valley. The difference is that available space is consumed much more quickly (and at a higher cost) within the Inland Empire than it is within the San Joaquin Valley.
4. Greater access to warehousing labor. Warehouse labor is generally hard to come by no matter where you are these days. With a great need for warehouse associates (especially eCommerce/pick-and-pack-related associates), there is a smaller pool of qualified associates to hire from. This leads to fierce competition among companies battling for associates and higher costs in the form of higher wages needed to attract and retain employees.
In Stockton, however, the labor environment is slightly less stressful due to a comparatively large population size, as well as the substantially lower cost of living in the region. And logistics wages and jobs in this agricultural region are considerably more desirable to many when compared to farming and other outdoor labor in an area where summer temperatures consistently exceed 100 degrees. As a result, the candidate pool for your warehousing operation is stronger and more motivated in Stockton.
Lean on a 3PL warehouse in Stockton, CA
If you're interested in taking advantage of all that Stockton has to offer your logistics operation, you can skip the time and expense of going it alone by partnering with a third-party logistics (3PL) provider that is already established in the region. With 3PL shared warehousing services, you can utilize a 3PL's existing space and services – paying only for what you use. Or, you can partner with a 3PL to staff and manage a warehouse dedicated solely to your operation with contract warehousing services.
Weber Logistics operates two Stockton warehouses as part of its 12-facility distribution network. Our Stockton facilities offer over 200,000 square feet of space primarily devoted to CPG, confectionery, and food-grade products. To learn how your operation can take advantage of Weber's Stockton infrastructure, contact us today.