There's no shortage of 3PL transportation companies vying for your business. To get the most out of any 3PL relationship however, you need to identify your needs. In this article, we'll start you off on the right foot with 5 key traits to define in a prospective 3PL provider on the West Coast.
1. Ensure that your 3PL transportation companies don't use independent dray operators on the West Coast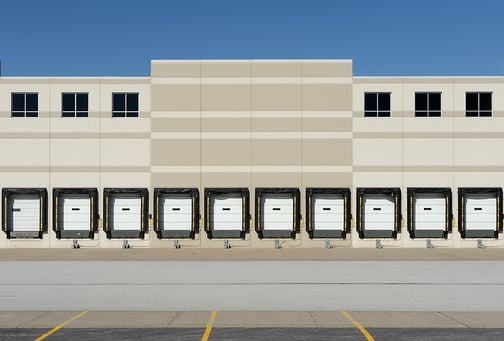 Through state supreme court decisions as well as state laws, California's position on the hiring of independent owner-operators by drayage carriers is now firmly established. In short, the state asserts that many of these contractors are not independent after all – and those that claim to be acting as employees of the hiring companies have court-confirmed legal ground to sue for wages and benefits, regardless of whatever contracts they themselves previously signed.
The state's position has been formed in recent years by the following benchmarks.
In its April 2018 verdict on the case, Dynamex Operations West Inc. vs The Superior Court of Los Angeles County, the California State Supreme Court ruled that transportation workers (and other groups of workers) should be presumed employees and not independent owner-operators when reviewing class action cases. In the ruling they applied a new, more stringent set of criteria that hiring companies must meet in order to treat workers as contractors. This verdict has since been codified in the state's Assembly Bill 5 (AB5) law, which continues to be the source of much debate and confusion.
Put into effect in January 2019, California Senate Bill 1402 (SB 1402) established that a public list be created, posted and updated on the state's Division of Labor Standards Enforcement (DLSE) website that displays the names and information of port drayage companies who have unsatisfied legal judgments against them related to labor malpractice. Companies who do business with a port drayage company on this blacklist will be held jointly liable for wages and damages that the drayage company may owe its drivers.
Because of these factors and associated risks, many shippers avoid drayage carriers that hire independent truck drivers in California.
The following are questions you can ask your prospective 3PL transportation companies to determine if they hire independent drayage drivers.
"Are your drivers hourly employees or owner-operators?" This simple question should elicit a simple response.
"Do you hire independent contractors?" 'Independent contractors' is usually just another term for owner-operators. Carriers may use one term or another, or use them interchangeably.
"Do you outsource my freight to small trucking companies?" Small companies are very likely going to rely on the services of owner-operators. So, if a carrier outsources to small trucking companies, they may well be using owner-operators.
2. Navigate the transportation 3PL landscape to secure FTL and LTL capacity
Demand for drivers still outpaces capacity within FTL, LTL and other modes of trucking. Heed the following tips to boost your chances of securing FTL and LTL capacity with a 3PL transportation company.
Deal with reputable carriers. Rates are always important, but quality service is vital. When you partner with a carrier simply because it has the lowest rates, keep in mind that many other shippers are doing the same thing. The lowest-priced carrier may be taking on more loads than it can handle, which will result in shipment delays.
Split your loads among multiple carriers. Conventional wisdom used to be that you find one preferred carrier and give them all your freight. However, now with bids, RFQs and technology advances, shippers have become savvier and can save money by awarding the freight to multiple carriers based on specific attributes.
Look to smaller regional carriers to help diversify your freight. Don't forget the regional carriers. Quality regional providers can offer capacity, competitive rates and exceptional levels of service. They're also less likely than larger, national carriers to have missed appointments as their smaller service areas allow for more predictable scheduling.
Give your FTL and TL carriers adequate lead time. If you call your carrier a few days in advance with your load information, it may or may not help solidify your appointment for your chosen day and time. The reason is that most carriers plan their loads on a day-by-day basis. However, for regional carriers and providers with more predictable schedules, such a heads up can be mutually beneficial for you and your provider.
Consider drop trailer agreements. The best way to secure capacity is to simply make life easier for your carrier(s). Few things make life easier than drop trailer agreements. With such an agreement, you – or your 3PL provider – load your pallets into a trailer. When the driver arrives at the warehouse, he or she can simply sign the bill of lading, grab the pre-loaded trailer (often while exchanging it for another), and be on his or her way.
3. Ensure that your 3PL transportation partner is compliant with CARB regulations in California
Under the federal Clean Air Act of 1963, California can – and does – determine its own environmental regulations through CARB. CARB regulations are often stricter than federal standards and are generally more challenging (and expensive) to meet than environmental regulations of other states.
California's CARB regulations include the following.
Companies that hire trucks for use in California are responsible for verifying that the carrier trucks they hire are compliant with CARB regulations. This verification can be in the form of CARB certification or by recording key identification information about the trucks so that compliance can be verified. Non-compliant shippers face fines of up to $10,000 for each year that a non-compliant carrier was hired. If multiple non-compliant carriers were hired, those fines can become quite substantial.
4. Offset high container rates by working with a 3PL provider that can handle overweight containers
One of the key ways that you can offset higher container shipping rates is to ship your freight in fewer containers by loading each container to its max load weight. In our experience, the overall throughput cost for import transportation is typically reduced by 15-20% when shipping overweight. During times of record-setting shipping volumes and sky-high spot rates, your savings could even be greater.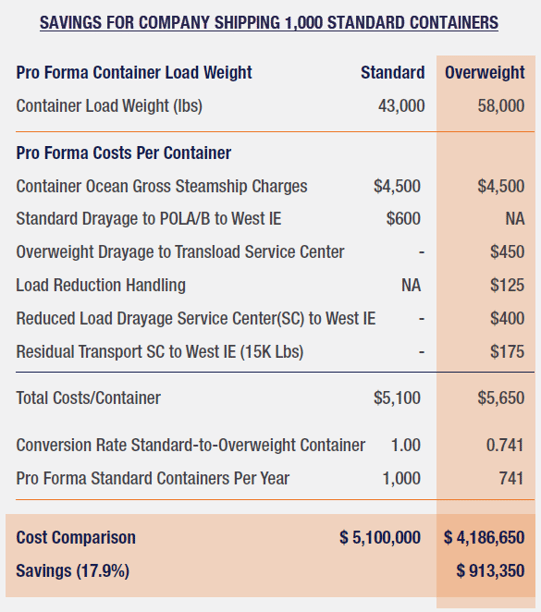 The basic premise of shipping overweight containers works like this: if you can fit the contents of four standard-weight containers into three overweight containers, there are savings to be had.
Importantly, while you will have additional costs for drayage, transloading and final delivery of the split load, these costs are significantly lower than the cost savings you enjoy by shipping fewer containers over the ocean. The inset graph shows the savings (17.9%) that a company shipping 1,000 standard containers can enjoy by shipping overweight containers during a relatively normal shipping season.
Products that are ideal candidates for overweight shipping include construction materials, lumber, liquids, heavy metals, and commodities like sugar, flower and grains.
If you're shipping your products into the Ports of Los Angeles or Long Beach via overweight containers, a 3PL provider like Weber Logistics can handle the overweight logistics on your behalf. Specialized 4-axle tractors can pick up your containers from the ports and then transport them to a warehouse within the overweight corridor. From here, your products can be transloaded and prepared for final delivery.
5. Work with a true team player
In this day and age, a 3PL transportation company should be ready, willing, and able to operate as a true extension of your team. This includes collaborative planning for your supply chain operations as well as a willingness to 'jump in the fire' with you when things get hectic.
The past few years bring up a few cases in point. At the beginning of the pandemic, the entire supply chain turned on its head. Retailer appointments were in a state of flux. If you didn't have a 3PL partner actively managing these appointments and retailer relationships for you, you weren't going to get product on the store shelves.
Working with a 3PL that acts as a team player allows you to adapt to situations in real time, but you also need to do your part. Your 3PL partner will lean on you for detailed forecasts and operational updates related to your business needs.
At Weber Logistics, we have the culture, the people, and the resources to act as a true part of your supply chain team. From customized solutions that cater to your needs to asset-based equipment that can be dedicated solely to your business, we're here to support you. To learn more about the benefits of working with a 3PL transportation company that also provides warehousing and other 3PL services, contact Weber today.