With the state supreme court's Dynamex decision, followed by its Senate Bill 1402 (SB 1402), California's position on the hiring of independent owner-operators by drayage carriers is now firmly established. In short, the state asserts that many of these contractors are not independent after all – and those that claim to be acting as employees of the hiring companies have solid legal ground to sue for wages and benefits.
Many beneficial cargo owners (BCOs) have seen the writing on the wall and are protecting themselves from possible legal and financial penalties by turning away from drayage carriers who engage contractors. Others are not yet reacting, while still others may not even be aware of recent legal precedents. In this article, we'll get you up to speed on these developments and help you determine whether your prospective carrier's drivers in California are actually considered to be on that carrier's payroll or are sub-contractors.
Background: California drayage driver legislation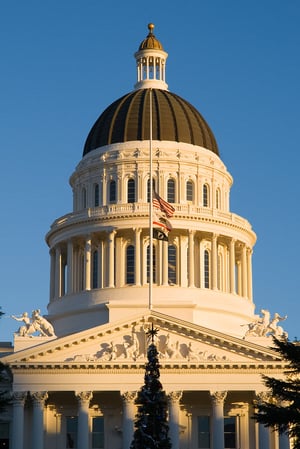 Within the logistics landscape of California, labor unions have argued for many years that drayage drivers hired by carriers as independent owner-operators actually function as employees and should be recognized as such. The carriers' motive for not doing so, the unions said, was to avoid paying employee benefits.
On and on the battle went, until it reached the state supreme court in the Dynamex Operations West Inc. vs The Superior Court of Los Angeles County case. The court ultimately ruled that, in the event of a class action suit, drivers (and other types of workers) will be presumed to be employees of a company and not independent contractors unless the criteria of a new ABC test are met:
"(A) the worker is free from the control and direction of the hiring entity in connection with the performance of the work
(B) the worker performs work that is outside the usual course of the hiring entity's business; and
(C) the worker is engaged in an independently established trade, occupation, or business of the same nature as the work performed."
In part "B" of that test, the company must prove that it hired a contractor for a role outside of its normal company function. A transportation company (i.e., drayage carrier) that is hiring a driver to provide transportation services is not going to pass that test. This opens the door, then, for any driver who is hired as an independent truck driver to later claim to be an employee and to sue for wages and benefits.
The state is currently deciding whether the Dynamex decision will apply retroactively, while also preparing to codify the ruling into state law.
The Dynamex ruling was followed, in September 2018, by SB 1402. This state senate bill establishes that BCOs that do business with a drayage carrier on a state blacklist can be held jointly liable (along with the carrier) for wages and damages owed to drivers by the carrier. Carriers land on this blacklist when there have unsatisfied legal labor judgments against them (and the period of appeals has ended). Importantly, a company would only be liable for weeks in which drivers performed work related to its business.
Questions to ask prospective drayage carriers
As a shipper, this is certainly a lot to chew on. SB 1402 has taken the battle over driver classification from something "over there" in the transportation world to something much closer to home (and – potentially – your company's wallet). There are also pending lawsuits in which carriers have declared bankruptcy, leaving independent drivers to look to BCOs to pay for wages owed. Because of these factors, many shippers and BCOs are seeking to avoid drayage carriers that hire independent truck drivers altogether.
The following are questions you can ask your prospective carriers to determine if they hire independent drayage drivers.
"Are your drivers hourly employees or owner-operators?" This simple question should elicit a simple response.
"Do you hire independent contractors?" 'Independent contractors' is just another term for owner-operators. Carriers may use one term or another, or use them interchangeably.
"Do you outsource my freight to small trucking companies?" Small companies are very likely going to rely on the services of owner-operators. So, if a carrier outsources to small trucking companies, they are likely using owner-operators.
"Are your drivers unionized?" This is simply another way of asking if drivers are hourly employees. Unionized drivers are going to be employees and not, obviously, independent contractors.
Even after you ask all your questions and reach a comfort level with your provider, you can still protect yourself by placing language in your contract or tariff page. This language can state that you do not authorize the use of independent drivers in performing drayage services and other transportation operations.
Prospective carriers in California should share information about SB 1402 with you. If they don't, it could be a red flag that it's something they'd rather not discuss due (possibly) to their own hiring practices.
One simple solution
A simple solution to the risk associated with driver misclassification is to work with a drayage company, like Weber Logistics, that uses hourly employees instead of contractors. These uniformed drivers tend to be highly experienced and project a very professional image on your behalf. You then get the expertise, with none of the risks and uncertainty.