If you're selling online, chances are you're selling on Amazon. And, if you're selling on Amazon, you want to be Prime-certified to reach Amazon's 100+ million Prime customers. These 'frequent flyers' spend an average of 1,400 per year[i] on the site.
To become Prime-certified, many sellers go straight to the source and let Amazon handle fulfillment through their Fulfillment by Amazon (FBA) program. But there is another Prime-friendly option available to you: Seller Fulfilled Prime (SFP). In this article, we'll take a closer look at this Amazon seller fulfillment program and the ways in which it differs from FBA.
Understanding FBA and SFP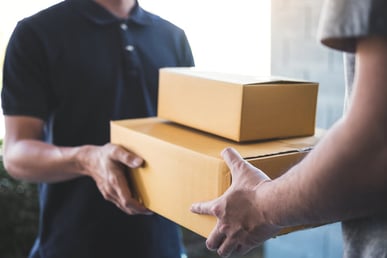 When you register for Fulfillment by Amazon, you ship your products to an Amazon distribution center(s) and Amazon fulfills your orders on your behalf. You are automatically given the all-important Prime certification – telling Prime customers that their orders will include free two-day shipping (the major selling point of Prime membership). Amazon then ships your orders to arrive within that two-day window.
With Amazon seller fulfillment, or Seller Fulfilled Prime, you store your products with your third-party logistics provider (3PL) who then ships them straight to your customers when orders are received (of course, you can also store and ship by yourself). Your 3PL will work with you and Amazon to achieve Prime certification by proving – over a set period of time + order quantity – that you can meet the 2-day shipping requirement. In the eyes of the customer, you are then a Prime seller no different from sellers who ship via FBA.
Advantages of Amazon Seller Fulfillment over Fulfillment by Amazon
You may be asking: if Prime customers see their orders as "Prime" whether you ship FBA or SFP, what's the big deal in choosing one vs the other? The answer lies not within the customer experience, but in your experience as a seller. The following are the key factors to consider when determining which program is right for you.
Cost. For many sellers, cost is the determining factor in selecting a program. FBA's costs for warehousing and fulfillment are typically 20% more than those of a 3PL. Those costs then skyrocket during the holidays, increasing threefold during the last quarter of the year. FBA also charges fees for slow-moving inventory.
With SFP on the other hand, your warehousing and eCommerce fulfillment costs are set by you and your 3PL. And, aside from typically being much lower than FBA's (in terms of cost per cubic square foot and labor charges), these are fixed costs that will not rise or fall based on the season or the length of time products are stored.
Branding. Is your brand unique? Does your business pride itself on a product and customer experience that can't be found elsewhere? If so, FBA may not be the best option for you. Why? Because with FBA, your products ship from Amazon in Amazon packaging within an Amazon box. In the minds of your customers, they will have purchased a product from Amazon – and not from your brand.
With Amazon seller fulfillment, however, your 3PL can customize just about every aspect of your packaging – from the dunnage to the shipping box. This allows you to present your brand to your customers as you see fit.
Omnichannel. If your business involves both eCommerce and B2B/retail sales channels, partnering with a 3PL for Amazon seller fulfillment is likely going to be your most efficient option. With this model, you have one 3PL that manages your entire inventory and ships orders as they come in – whether B2B or B2C.
Conversely, with FBA, you need to segment a portion of your inventory into a separate silo for sale on Amazon. This inflates inventory, adds work for your team, and can add costs as your weeks of supply increases.
Customer service. When you work with a 3PL, the way customer service should work is this: you have a dedicated account manager that knows your business inside and out and is at the ready to take your call or email whenever you need him or her. This account manager is then backed by other teams (e.g., systems/IT) that also have experience with – and insight into – your business and are ready to support you.
Compare this with the FBA model, which consists of…(crickets). Unless you are one of Amazon's highest-volume sellers, you will remain a small fish (or account #) in a very big pond. This means no dedicated account manager and likely no human interaction of any kind with Amazon.
Turn to Weber Logistics for Amazon Seller Fulfillment
If you're looking for West Coast eCommerce fulfillment with Prime certification, look no further than Weber. We have the systems and the warehousing and distribution infrastructure to attain Prime certification for your business, while complying with all Amazon Prime requirements. Best of all, we can seamlessly integrate these B2C operations with your B2B efforts – giving you one seamless omnichannel solution for all your products. We then support your supply chain with dedicated Weber people who know your business and are always available to support it. To learn more about our capabilities, contact Weber today.
*Note: As of July 2019, there is currently a waitlist for SFP enrollment.
FOOTNOTES
[i] https://www.businessinsider.com/amazon-prime-customers-spend-more-than-others-2018-10