Weber Logistics' CFO Maggie Movius has been busy. She's navigated a worldwide pandemic, a partnership between Weber and Stellex Capital Management, and a doubling of Weber's warehousing footprint in California – all within the past two years. In this article, we interview Maggie to discuss these topics, as well as the company's ability to continue its growth in the face of marketplace challenges.
How is the role of a CFO within a 3PL organization changing?
Everything is just faster. Our customer needs have grown exponentially, and with it comes opportunity for us grow along with them; but we must do it responsibly. New projects, like customer and business acquisitions, or new building openings, require us to be adept at projecting both transition and long-term costs, and to build processes that capture when scope or profiles are exceeded or aren't delivered as expected. I work closely with my colleagues to ensure I understand their goals and we bring them to fruition responsibly.
Weber has been aggressive and growth-minded, especially in recent years. Can you tell me a bit about your role in that and your philosophy regarding Weber's growth?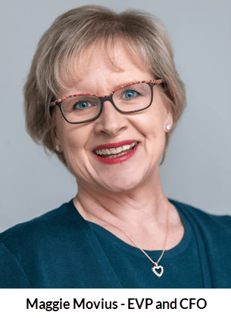 I'm fortunate enough to have been with Weber for seven years now. Over that time, we've migrated from being a mid-sized, family-owned company that was initially challenged financially, to an aggressive, growth-oriented 3PL. Early on, my role was focused on stabilizing the business, which included heavy investment in systems and infrastructure so that we had a solid foundation for growth. In the past few years, we've had the confidence to open numerous new locations and take over several facility management contracts. We learned a lot about what works and what doesn't, and we continue to build on those successes today.
"Storytelling" is a phrase you're fond of as CFO. Can you explain what that means to you?
Storytelling is something that I've focused on throughout my career. In finance and accounting, it is natural to focus on transactions and scorecards. But the real magic to me is the "why." I might say, 'I get that we have less cash, but why?' Did our customers pay slower? Did we invest in an asset that will have a long life? Was there an unexpected expense, or was it the week of the month where rent and interest are due? For me, talking about the why brings finance to life in a day-to-day business as it frequently leads to discussions about actionable opportunities or building a better process moving forward.
You've gone from a family-owned, more conservative business to a fast-growing company backed by a new financial partner, Stellex. How has that changed your role and the way Weber does business?
My role has always been ensuring, number one, that we've got the basics in place for internal controls, for scorecards, for reporting, and for ensuring that the infrastructure of the business is supported so that operations can excel.
Early on in my time at Weber, it was really about stabilizing the business. And then the next few years were about investing in the underlying infrastructure to develop a framework to allow the business to scale and grow—things like upgrading our operating systems, our warehouse management system, our transportation systems, and our email systems. And it also included ensuring that we had the right staffing and that teams were fully trained on the latest tools we were using to support the business. Around 2018 or 2019, the Weber family had enough confidence in the executive team's leadership that they started to invest in new locations.
Since Stellex has come in, it's been about them knowing that we had the framework, the recipe, and the toolbox to allow us to grow more rapidly. The Stellex partnership has been wonderful because they support investment in new buildings, new equipment, and new people. They are really removing any roadblocks to growth.
So, it sounds like there's not a lot of red tape that you must go through every time you need something?
Our Executive team, along with Stellex, is deeply involved and invested in the growth of our business. When investments in people, technology, or equipment are needed, we come together, assess the cost, and agree on the path forward. I like to think that over time I have learned when the purse strings need to be tight and when they don't. With Stellex, they're tremendously supportive and have a similar mindset as long as the return is clear. That kind of support has allowed us to add a million square feet of warehouse space in the last eight months, and we're looking to open another large distribution center later this year.
And when you're competing for warehouse space, you're competing against some of the biggest companies on earth, right?
Yes, the big players are frequently in the mix when we are out in the market looking for real estate. They're very well-funded, institutionally-backed companies that need this space as well. Its tough competition.
We are fortunate at Weber to work closely with long-term real estate advisors that keep us focused on the right geographic locations, always balancing the cost per square foot with the cost of the real estate.
And we have been fortunate to find relationships with landlords where they aren't necessarily interested in the biggest name player. They're interested in a company that has a strong history, a demonstrated commitment to quality, a solid reputation in the market, and robust financials. When I'm talking to potential landlords, I am looking for one that really cares about the Weber story and our extensive footprint in California and all the things that we've done here and will continue to do.
When you were talking earlier about technology investments, it seems that your first priority was making sure your essentials were optimized before moving on to more aggressive challenges, correct?
Yes, it really was. It's a story that you see throughout business and really throughout life that, when you're challenged, you have to focus on the basics, the blocking and the tackling. At the root of how I operate is very simple, it's cash. Cash tells the truth. An income or other financial statement will give you a snapshot as of a moment, but the truth really comes out in the cash and how it moves over time.
As our cash situation became more favorable, we had the confidence to grow and expand. By the time we went to market to find a new partner for Weber, Stellex seemed like the perfect fit in supporting that.
It became a very complementary relationship because they embrace our growth and they saw that we had the capability, the ideas, the framework, and the right people to grow.
Has the pandemic impacted the company's growth mindset?
Well, when I think about the pandemic, I think about how tremendously important it was for Weber to keep operating, and how the leadership team of this company determined immediately that our work was essential. We then had to look at all operations to make sure our employees felt comfortable and were safe coming into work. That was the primary challenge.
The second challenge was financial because we didn't know if our customers could keep paying us. If their sales dried up, their cash would too, and they wouldn't be putting product on our trucks or in our warehouses to generate revenue. My memories of those first months of the pandemic are of heavy, frequent discussions with our owners and bankers about how to ensure the continuity of operations for our customers and employees. We were also aggressive in securing a PPP loan, thinking we needed to shore up as much cash as possible. As the first few months passed and we saw our customers still operating and paying bills, I was able to take a deeper breath and realize that we weren't out of the woods, but we were going to weather the storm.
One great story about the Weber family and Nick Weber's personal integrity is that we did in fact secure a large government PPP loan back in mid-2020. Of course, it took a few months to get approval and fund, so by the time we received it we were able to see our customers doing okay. Nick looked at me and said, "We don't need it; other companies need it more, I want to pay it back." So, we never used the loan. We paid it right back. I am proud of that decision today.
Wow.
He did the right thing. I mean, the incredible integrity of the Weber family continues as a part of our culture today. It's always spoken to me as the CFO.
So, what's next for Weber?
We're looking to continually improve our operations, expand our footprint, and help our customers grow and excel in the marketplace. We see logistics as a resilient and important industry that will continue to grow for many years. We're in it for the long haul.