Volatile supply chains demand agile supply chain solutions, whereby your logistics operations adapt to market changes as they happen. 3PLs can be key enablers of more agile, resilient distribution operations. In this article, we've identified 5 traits that help set truly agile 3PLs apart from the competition.
5 traits that providers of agile supply chain solutions have in common
1. Agile 3PLs understand where the market is headed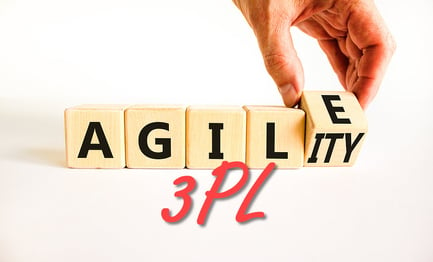 When asked about the secret to his success, hockey legend Wayne Gretzky famously said that he skated to where the puck was going to be. Important in hockey. Even more important in supply chains, where a lack of planning can bring your business to its knees.
You need a 3PL partner that doesn't just react but anticipates. Looking at the current landscape, there's a shift from retailer-dominated distribution to integrated omni-channel distribution, and from reliance on far-flung supply chains to nearshoring and domestic manufacturing.
Are you and your 3PLs having conversations about these and other market trends that affect your business – and what you need to do about it? An agile 3PL not only understands where the market is headed but is close enough to your business to spot the trouble points and provide guidance accordingly.
2. Agile 3PLs stay close to your business
Agile 3PLs leverage insights about your operation to make recommendations. These insights are gleaned not only from data and reports, but also from a greater level of intimacy with your business. The combination results in a truly custom solution.
Getting there requires stakeholders from your company and your 3PL to invest the time and energy required for a true partnership. This could mean daily meetings or even having a member of your team work onsite at a 3PL warehouse (or vice versa).
This close working relationship is often unattainable for any but the biggest clients of large 3PLs. That creates a dilemma for the growing mid-sized manufacturer looking for a true, strategic supply chain partner. The largest 3PLs have the resources to help, but not the interest.
Smaller 3PLs may have the interest and the customer-intimate model to go with it, but not the resources to be a difference-maker for your business. An agile supply chain provider sits in the sweet spot – it's small and nimble enough to act as a seamless extension of your team, and large enough to provide the resources and infrastructure to solve your biggest distribution challenges.
3. Agile 3PLs embrace technology
The tools that work best today might not work as well tomorrow. An agile supply chain provider knows this and embraces logistics technology while dedicating the money and resources necessary to manage and update systems, as needed. 3PL tech capabilities should include, at minimum.
A full-featured Warehouse Management System (WMS) that can manage your inventory and direct a range of picking strategies
A robust Transportation Management System (TMS) that optimizes modes, routes, and driver and truck utilization
The know-how and tools to quickly integrate data between systems using EDI, API – including integration with eCommerce platforms
Customer portals for supply chain visibility
Reporting tools that allow you to download standard and custom reports at any time to monitor operations and stay in control
Warehouse automation that increases throughput with less labor
Supply chain agility requires these foundational tech tools, but also the internal resources to direct systems solutions. Some 3PLs, like Weber Logistics, support omnichannel fulfillment operations with a dedicated, in-house IT team that manages systems integrations and compliance with retailer routing guides. compliance efforts. Agility is simply not possible if you must wait in a queue for an outside vendor to get to your project. At Weber, for instance, we can turn around new systems integrations in a matter of weeks, not months.
4. Agile 3PLs make forward-thinking investments
What good is it for your 3PL provider to recommend more warehousing space, more automation, or more trucking capacity if it is unwilling to make the investments needed to provide those things to you? While an agile 3PL won't necessarily "build the church for Easter Sunday" in terms of its infrastructure, it will make investments that enable its clients to scale upward.
These investments come with a cost, so agility is not free – for the agile 3PL or its customers. But choosing agility is an economical choice versus the alternative of having a distribution infrastructure that can't support business growth.
5. Agile 3PLs provide integrated services
Agile 3PLs are able to seamlessly integrate multiple services to achieve faster, frictionless product distribution – from the port to the retail store or front door.
A provider of integrated 3PL services is able to adjust in ways that would be impossible with multiple partners for drayage, transloading, warehousing and final delivery. Need the warehouse to open after hours to receive an important incoming container? Need to bump up an outbound shipment from the warehouse to accommodate a retailer? Your integrated 3PL can do those things seamlessly as it controls multiple elements of the distribution process.
Supply chain agility: Not just a state of mind
Agility is not just a state of mind where a 3PL decides it's going to respond faster and be more flexible. True agility costs money. It requires investments in buildings, equipment, talent and relationships – plus the know-how to translate these resources into a real competitive advantage.
To learn more about our integrated supply chain solutions and the benefits of working with an agile 3PL, contact Weber Logistics today.