Stop me if you've heard this before: we're in the midst of a truck driver shortage.
While we may feel that we've reached the saturation point in hearing – and reading – about this shortage, the related headlines aren't going away any time soon. That's because the shortage isn't going away any time soon. In fact, we can only expect to hear more about it as the impact to the trucking industry and the nation's economy continues to worsen.
With logistics in California, one of the major areas where this impact is being felt is container drayage. The shortage of drayage drivers has recently returned to the headlines as there aren't enough drivers to handle rising volumes in advance of tariffs and an interest rate hike. In this article, we'll take a closer look at this shortage and what you, as an importer, can do to keep your drayage freight moving to and from the ports.
What is drayage?
Drayage is the logistics industry term for the transportation of goods over short distances. Drayage freight in California usually refers to the shipment of containers from port to warehouse by trucking services. Drivers for drayage transport services are especially important in logistics operations due to their ability to make or break supply chain bottlenecks.
Causes of the drayage driver shortage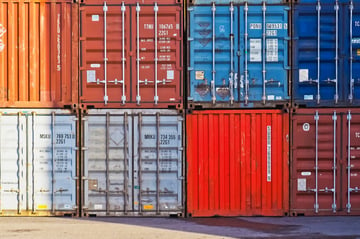 To an extent, the driver shortage is caused by the same factors across all types of trucking. The average age of drivers is older, and many are retiring, but there simply aren't enough younger drivers to take their place. The Hours of Service and ELD mandate have also scared some drivers off into early retirement or other lines of work.
With drayage, however, there are a few unique factors that further compound the industry-wide challenges.
Drayage drivers are tired of wait times. Drivers get into the driving business to drive. They make more money when they're moving. But for drayage drivers in heavily-congested areas like Los Angeles and Long Beach, actual driving makes up a small part of their days. Much of their time is spent waiting – waiting in line at the port and waiting in traffic in the surrounding areas.
As we know, waiting in traffic is not an enjoyable way to spend your time. So, it's no surprise that many drayage drivers have had enough and are leaving for the more free-roaming pastures of regional and long-haul driving.
Confusion and risk in hiring independent owner/operators. While many drayage drivers prefer to work as independent owner/operators (O/Os), states like California are making it virtually impossible for them to do so. For years, unions and labor groups have argued that port trucking companies have classified drivers as independent owner/operators when they're really employees.
Now, due to California Senate Bill 1402, beneficial cargo owners (BCOs) can be held jointly liable with the trucking company they hire if drivers of that trucking company are found to be owed wages and/or damages. Rather than risk this, the BCOs may avoid hiring owner-operators directly or avoid hiring trucking companies who make liberal use of O/Os. As for the owner/operators, many are now leaving the state and/or switching to other trucking jobs.
How to keep your drayage freight moving
Now that you have a sense of the various factors that have led us to the drayage driver shortage, the question remains: how do you reliably secure capacity in this environment? Fortunately, Weber has some answers.
Establish longer-term, guaranteed container counts. While this is a relatively common practice in regional and long-haul trucking, we seldom see it in drayage. If you can give your drayage provider a commitment to a set number of containers, that provider will dedicate its equipment and resources to your operation accordingly. If it sounds simple, that's because it is. Too many companies ignore this, however, and choose instead to join the fray competing over drivers, chassis and other equipment.
Be understanding of carrier rate hikes. No one wants to pay more today than they did yesterday, but the shortage has altered the playing field. To hire scarce drivers, carriers find themselves paying wages to new drivers that are 30% higher than they've ever paid before. These drastic increases in wages are thus leading to increases in carrier rates.
Work with carriers that have hourly employees. If your operation requires drayage within California, you want to work with carriers that pay their employees hourly. In the wake of SB 1402 and other legislation and regulations, the risk is simply too great to become involved with independent owner/operators within the state.
Work with asset-based carriers. We've established that drayage drivers can be hard to find. At ports such as Los Angeles and Long Beach, chassis, trailers and other equipment can also be very difficult to secure. Simplify the process by working with a carrier that owns its own equipment and can dedicate it to your operation reliably.
When securing capacity for drayage freight at the ports of California, you need to find a true expert that checks several boxes. It needs to know the ports, understand and maintain compliance with the many laws and regulation in the state, and have the drivers and equipment you need when you need it. Weber Logistics is a California logistics company that checks all those boxes – and many more. To learn more about our port services or for a drayage quote, contact us today.