Drayage is technically just another transportation service. A driver picks up a load and then delivers it.
With port drayage, however, this simple process becomes much more complex. Navigating seaport terminals is a tricky business on a good day and can become extremely difficult as rules change from terminal-to-terminal, or even hour-to-hour. To navigate the ports effectively – and avoid wasting time and money – shippers need to ensure the drayage carriers they work with have a roster of experienced drayage drivers.
What makes the ports so complicated?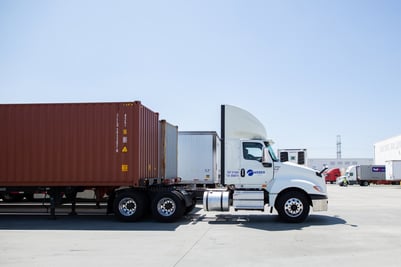 When you are shipping into any major port, you're not just shipping to "a port." You're really shipping to one of many terminals within that port. Each of these port terminals has its own rules pertaining to appointment booking, container pickup, driver processes (how they must enter and leave the terminal, what lines they must queue in, etc.), hours of operation, chassis usage, and so on. The drayage carrier you choose to work with (along with its drivers), must understand the rules of each of these terminals to ensure efficient pick up or drop off.
At the Ports of Los Angeles and Long Beach, for example, there are 49 cargo terminals, 13 of which handle containers. There is one centralized service which handles most appointments for all Long Beach terminals. For Los Angeles appointments, however, you must book directly with the terminal handling your container.
The differences really start to mount at the terminal level. The Matson terminal, for instance, does not require an appointment for picking up or dropping off exports, while all other terminals do. The MSC terminal does not require any fee for use of reefer gen sets, while others (e.g., APL) do. And so on.
This is to say nothing of the daily rule changes that drayage drivers must contend with. The individual terminals at the Ports of L.A. and Long Beach will notify carriers of rule changes that arise during a given day. It is not unusual for the same terminal to send out three rule-change alerts on the same day. These changes are typically responses to heavy congestion and/or equipment (e.g., chassis) shortages. For example, a terminal may send an alert saying that it cannot accept returns of a specific type (e.g., 20' or 45' containers) for the remainder of the day, as its return lot is full.
Importantly, scenarios like the ones described above don't just apply to logistics in California — they play out in a similar way at all other major U.S. ports (e.g., New York, Charleston, Norfolk, Oakland, Savannah).
Why driver experience matters
As you can see, there is a lot more to port drayage than simply showing up and collecting a container. It can be difficult enough to simply locate the container, saying nothing of the challenges associated with getting in the right gate and into the right line at the right time. The driver must have intimate knowledge of the terminals, while also having the ability to adapt to daily rule changes. Without this knowledge, drivers can log many unproductive hours just navigating port complexity – costing you both time and money.
Based on our experience in the Ports of L.A. and Long Beach, it takes a driver who is unfamiliar with the ports about 30 days to get up to speed. During those 30 days, that driver will be about 50% as productive as an experienced driver.
But experience equates to more than simply getting in and out of the terminals as quickly as possible. Experienced drayage drivers can truly act as an extension of your operation and find ways to save you money – or at least prevent you from paying more unnecessarily. For example, experienced drivers will understand your container's last free day and will ensure that your freight gets back before you hit per-diem or demurrage.
How to find carriers with experienced drayage drivers
Whether you need drayage services at the Ports of Los Angeles and Long Beach (which have a whole other set of challenges to contend with) or any other major port in the U.S., the following tips should help you find drayage carriers with an experienced driver corps.

1. Don't be a minnow. If you're a small-to-mid-sized shipper (which most everyone is compared to the Walmarts and Targets of the world), you likely won't want to work with a very large drayage provider that has very large customers. Why? Because you'll be a minnow in the that carrier's giant pond. The carrier will be most interested in satisfying its largest customers and will assign its best and most experienced drivers to serve them. This will likely leave you with greener, inexperienced drivers who may not be able to provide the service levels you deserve.


It is better to find a slightly smaller (but not too small) drayage provider that will treat you like a shark or whale. Such a provider will truly value your business and support it with its best resources.

2. Look for trouble. In port terms, a "trouble ticket" is issued at a terminal when a driver has a problem picking up a container and must then seek assistance as the terminal's "trouble window." Let's say, for example, that a driver fails to perform a thorough check of the chassis before entering the terminal gate. The terminal identifies a mechanical problem with the chassis and refuses to load the container. The driver then must go to the trouble window to open a trouble ticket to seek the terminal's assistance in procuring a container.


This doesn't sound fun, right? It isn't. So, be sure to ask your prospective drayage provider about the percentage of their loads that generate trouble tickets. If that number is at or above 5%, it may be best to look elsewhere.

3. Just ask. A great way to assess how experienced a carrier's drayage drivers are is to simply ask. A basic, "how long has your average driver worked at the Port of ______?" will suffice.


Turn to Weber Logistics for Drayage Experience
If you can find a company that has been in business a long time serving your chosen port, you will almost always find a company that hires experienced drivers. This is certainly the case here at Weber, which was founded in 1924. Our drayage drivers (and we mean our drayage drivers – hourly employees, not independent contractors) average 7 years of direct port experience. This results in quality service for all our customers and the cost and time efficiencies that come with that experience. In short, our customers are always sharks, never minnows. To learn more about how our drayage operations can benefit your supply chain, contact us today.