You're ready to outsource your warehousing operations to a 3PL that has the expertise, technology, and capabilities to handle your unique business day in and day out. One of the first questions a 3PL will ask is if you are interested in dedicated or shared warehouse services. Or, if you have been in a shared 3PL service contract for a while and your business has grown significantly, would it benefit you to move to a dedicated solution? In this article, we'll briefly explain what each of these services entails and then examine 'the four Cs' to consider when choosing between the two choices.
The shared warehouse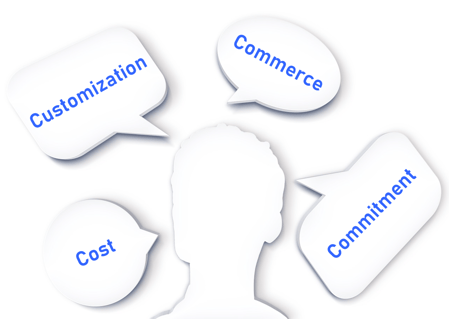 With shared warehousing, your operation is one of several that use a 3PL facility's space as well as the 3PL's people, systems and equipment. You pay for the space and resources your business requires and the overhead costs are built into the rates. If your needs change and your footprint and service requirements increase or decrease, your rates do not change unless there is a new service or profile update.
In a shared environment, it's easier to have your logistics costs parallel your revenue stream. Shared warehousing services are typically best for companies whose space and service needs fluctuate, for those who store less than 5,000 pallets, or for those who simply aren't ready to commit to a dedicated model.
The dedicated warehouse
With dedicated warehousing (also called "contract warehousing"), you hire a 3PL to run your warehousing operations from a facility solely (in most instances) inhabited by – and dedicated to – your business. The building, technologies and equipment to run the operation can be owned by the 3PL or, in many cases, the client will own the building and bring the 3PL in to manage the building and run the operation. Either way, as the building is dedicated solely to your business, almost every aspect of the warehousing operation can be customized to fit your specific needs.
Dedicated warehousing services are typically best for larger companies that have a consistently high volume of activity, require a specific location for optimal distribution, and/or want the benefit of a lower operational cost with the expertise and resources of a 3PL partner.
The four Cs: key dedicated vs shared considerations
Now that you know a little about each form of warehousing, how do you determine which is best for your operation? Start with 'the four Cs.'
Commerce
A good starting point is determining how strong a commercial presence you have in the market. If your business is firmly established in a given region, then a dedicated operation may make sense. If, however, you're testing out a new market or aren't yet seeing the success you envision in the region, it may be too risky to go the dedicated route. The reason is that, with dedicated, you commit to paying for a substantial amount of overhead for a fixed amount of space, people, technologies, resources and equipment. If you have little historical operational data, it's harder to predict your needs with any accuracy. Starting in a shared environment allows you to develop a greater understanding of volumes and operational requirements before making a major financial commitment.
Customization
A key difference between shared and dedicated warehousing is that, with shared, your operation plugs into a 3PL's existing infrastructure of space, resources, technology, and equipment. The layout and process flow of your business is optimized within the constraints of the 3PL's operation to maintain flexibility in space and labor fluctuations.
In a dedicated environment, however, it's your operation and the 3PL designs it to your exact requirements for optimal space and labor efficiencies. This includes specialized equipment and other capital expenses that are specific to your business needs.
When it comes to value-added services, both options can handle the needs for project work and light assembly. However, for specialized services like complex assembly, testing, inspection and reverse logistics, the dedicated option can be more reliable in terms of skilled labor and the custom setup.
Also under the banner of customization is volume fluctuation. Do your volumes fluctuate significantly across days, weeks, months, or seasons? Companies that make the capital investment in a dedicated operation need to make sure that their volumes are consistent enough to warrant that investment. No one wants to pay for space and warehouse labor that isn't being used.
Commitment
Shared warehousing typically involves a shorter contractual commitment than dedicated and usually has terms of 1-to-3 years with cancellation clauses if your distribution needs change. Dedicated contract terms are typically 3-to-7 years, usually co-terminus with a building lease, and terminating the partnership is more costly and complicated based on the ownership of the building, equipment and systems.
A longer-term commitment means a longer partnership with your 3PL. So, it is critical that you select the right 3PL provider for your operation – one that has the expertise, resources, reputation, and track record to meet and exceed your objectives.
Cost
Shared warehousing is typically structured with transactional costs. The operation will adhere to a variable cost structure for space and labor that includes costs for storage at a pallet level and handling activities (e.g., pick and pack, pallet receiving). As noted above, a major advantage of shared warehousing is that your costs are consistent. You pay for the space and labor you need, on a per-unit basis, within a reasonable capacity range. For many clients, that is the ideal solution.
Dedicated warehousing has fixed costs for much of the standard structure. Those costs may be significantly lower on the storage side, if your inventory is stable, as 3PL's charge higher rates for shared client business due to seasonal inventory levels and intermittent empty space. However, in the dedicated environment, if your needs decrease, you risk having too much storage related expense. On the labor side, the most common structure is cost-plus – that is, you pay the cost of the staffing, with a marked-up rate. If your business volume is too inconsistent, that might not be efficient. However, for many 3PL clients, this is a lower-cost choice than the transactional model, as 3PLs accept lower labor profit margins that attend the lower risk to them attendant in passing through costs rather than fixed per-unit pricing.
Examples of how our clients have chosen one over the other:
Shared
Company has a need to place portions of their inventory in particular geographic areas (e.g., regionally, or near a customer, a port or plant)
Company wants a predictable variable transactional cost structure for space and labor that includes all the related indirect costs for a crystal-clear unit cost
Company is new to a market and unclear of business projections so a short-term contract is less exposure to test the waters
Company has business seasonality that does not support the fixed costs of a dedicated facility during the slow season, but can flex up (in a limited manner) during peak
Company seeks transportation savings opportunities for its freight to 'ride along' with other clients that the 3PL services
Dedicated
Company enjoys cost savings in a fixed overhead by holding the building lease and the systems and resources to manage the operation
Company requires a specific location and warehouse experts to manage distribution with a full-featured WMS and established processes
Company has specific requirements to support a specialized setup, including technology, warehouse staff and equipment to minimize costs and maximize service
Company has the need for cost transparency in all aspects of the operation, and the need for logistics resources to efficiently run the operation
Turn to Weber Logistics for your warehousing needs
Still not sure if shared or dedicated warehousing is right for you? The best 3PLs want to help. They'll facilitate a two-way exchange of data that examines objectives and requirements to determine the best strategic option. That's the Weber Logistics approach. Weber offers both dedicated and shared warehousing and has helped companies in very similar circumstances find the best warehousing solution to meet their growing needs. Better still, our warehousing services are fully integrated with our drayage and asset-based transportation services to give you a single-source supply chain solution on the West Coast, with additional resources nationwide.