Increasing SKU count, fluctuating inventory, shifting omnichannel distribution, demanding retail compliance…these are just a few of the major supply chain challenges you're facing as a housewares company. Fortunately, these are also challenges that logistics companies that specialize in the housewares space can help you meet head on.
But not all 3PLs are equally capable.
To truly optimize your supply chain and deal with shifting market conditions, you need an agile 3PL that can help you adapt to market changes as they happen.
In this article, we'll examine how agile 3PL providers that specialize in handling lighting, home décor, and other types of home goods can optimize your supply chain.
Houseware logistics challenges and how an agile 3PL can help
Challenge #1: SKU proliferation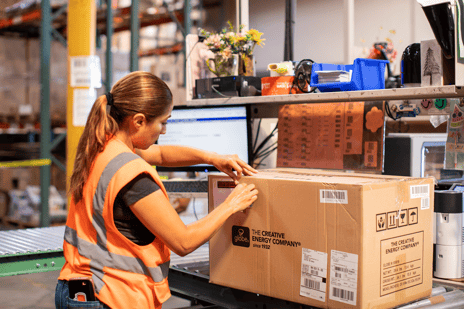 Most housewares companies have a large, and growing, number of SKUs. Some 3PLs don't have the know-how and technology to efficiently deal with a breadth of SKUs that frequently changes.
How an agile 3PL can help: With dedicated personnel committed to your operations as well as a sophisticated Warehouse Management System (WMS), agile 3PLs can nimbly adjust to more complex inventory management challenges. Some examples:
Reslotting as inventory turns change by positioning new SKUs in easily-accessible prime pick fronts and moving old SKUs to lesser locations
Performing kitting services that combine multiple components into a single kit or combine multiple products into a sample pack or holiday basket
Updating systems to reflect SKU changes, as needed
Challenge #2: Volatile supply chains
Overseas factory slowdowns, port delays, lack of drivers, warehouse space shortages, unpredictable consumer demand… These and other factors make it difficult for houseware brands to distribute products quickly and efficiently.
How an agile 3PL can help: Some housewares logistics companies are well-positioned to provide scale and flexibility in this challenging supply chain environment. Look for the following:
3PLs that have large and growing warehousing networks are able to expand or shrink your warehouse footprint to accommodate volume fluctuations.
3PLs that provide asset-based drayage and trucking services are better able to shift capacity to accommodate your high-volume periods.
3PLs that serve many home goods brands can consolidate your outbound shipments with other clients to turn LTL shipments into lower-cost truckload shipments destined for Home Depot, Lowe's and other big box retailers.
3PLs that provide integrated warehousing, transportation, and drayage services can pull the levers to support your business through every step of the supply chain. For example, if you need the warehouse to open after hours to receive an incoming container, a 3PL provider that controls your warehousing and drayage ops can make it happen.
Challenge #3: Omnichannel fulfillment
The pandemic created a sea change in consumer buying behavior for many industries, including housewares. Companies that were heavily weighted toward B2B distribution suddenly had to handle a sharp uptick in B2C orders. Today, housewares companies must optimize for both channels. That requires a distribution operation equally adept at efficient, high-speed B2C fulfillment and retail distribution, with its stringent compliance requirements.
How an agile 3PL can help: The right 3PL provider can effectively manage omnichannel fulfillment from one pool of inventory, avoiding the redundant space, labor and systems of separate B2B and B2C fulfillment operations .
Inventory is stored in a reserve storage area. As forecasts signal future demand, and as actual orders are dropped, the WMS sends product into multiple forward-pick areas – one designed for B2B distribution (large areas and docks for receiving and staging pallets) and one for B2C each picking (custom-designed layout for quickly picking and packing individual orders).
This multi-channel fulfillment approach results in leaner operations, keeping just enough inventory and labor to meet customer demand through all your sales channels.
Some 3PLs, like Weber Logistics, are able to support omnichannel fulfillment operations with a dedicated, in-house IT team that manages systems integrations and retail compliance efforts to help you comply with the routing guides of Lowe's, Home Depot, Walmart, Amazon and other leading retailers. Having this vital resource in house means that you and your 3PL don't have to wait in a queue for an outside vendor to get to your project. At Weber, for instance, we can turn around new systems integrations in a matter of weeks, not months.
For more on omnichannel fulfillment, check out our Guide to Outsourcing Omnichannel Fulfillment to a 3PL.
Challenge #4: Rising supply chain costs
If you're looking to buy or lease your own warehousing space, good luck. Warehouse vacancy rates are historically low across the US, but especially in major hubs like Los Angeles and the Inland Empire. And with historically low vacancy, comes historically high prices.
On the transportation side, demand for drivers still outpaces capacity within FTL, LTL and other modes of trucking. This reduces available capacity while substantially increasing rates.
And, of course, there has been a sharp increase in the cost of recruiting, hiring and retaining warehouse associates and truck drivers.
How an agile 3PL can help: By partnering with a housewares logistics 3PL that already has warehousing space in your desired location and has demonstrated the ability to keep it staffed with quality associates, you can save yourself headaches and reduce costs. For example, a shared warehousing agreement enables you to share the 3PL's space with other companies while paying only for the space and resources your operation uses. Committing to a 3PL partner guarantees that your inventory levels and space requirements can be met, with room to scale and grow in the future.
For transportation and drayage services, some 3PLs, like Weber Logistics, combine asset-based and non-asset-based transportation services, allowing you to lock in capacity and rates within the lanes they serve with their own fleets while still using the same provider for additional lanes.
Turn to Weber for housewares logistics services
If you're looking for a seasoned housewares logistics company to handle key elements of your supply chain, look no further than Weber Logistics. With 16 omnichannel distribution centers on the West Coast, along with our own drayage and final-mile fleets, we have the logistics infrastructure to support your supply chain operations. And while our service capabilities may be big, we remain committed to a personalized level of service that offers customized solutions to the market challenges you face. To learn more about working with Weber Logistics, contact us today.