Whether container rates are up or down, chances are you'd like to pay less to import containers. Fortunately, there's a straightforward way to reduce shipping costs when shipping into the Ports of L.A. and Long Beach. In this article, we'll discuss the practice of importing products using higher shipping container weights and making use of the Overweight Corridor.
Shipping overweight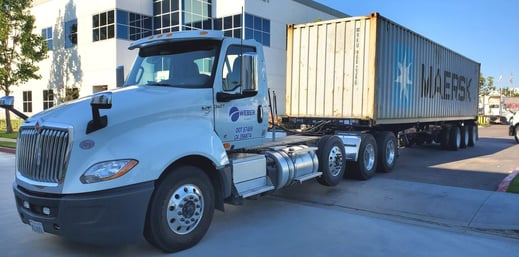 If you're like many companies, you're limiting the weight of your shipping containers to around 43,000 pounds so that they can legally move on U.S. highways (in most states). When you do this, you're probably leaving open "air" space in your containers. This unused space can represent wasted spend for your company.
Steamship lines generally don't charge more for containers loaded to their max volumes than they would for containers loaded to standard/U.S.-street-legal weight. So, you're not saving money on the ocean crossing by limiting container weights to 43,000 pounds.
It then stands to reason that, if you can fit the contents of four standard-weight containers into three overweight containers, there are savings to be had – especially when shipping into L.A./Long Beach which is home to an Overweight Corridor.
Sitting just outside the Ports, the Overweight Corridor (also known as the Heavy Container Corridor) is a 4-square-mile grid of local roads in which overweight containers (i.e., containers with a weight higher than allowed on U.S. roads) can be moved freely with trucks that have the proper permits. There are three permits that a transportation provider needs to operate within the corridor: one from the city of Los Angeles, one from the city of Long Beach, and one from the county of Los Angeles.
Working with a 3PL to take advantage of the Overweight Corridor
When you partner with a 3PL operating within the Overweight Corridor, you will be able transload and/or deconsolidate your container freight. With this approach, your 3PL provider receives your containers and transports them to its warehouse. If that warehouse is not your product's final destination, the 3PL will unload enough pallets from each container (typically 2 to 4) so that the container is no longer considered overweight and no additional permits are required. The 3PL will then transport the now street-legal containers.
Once all containers have headed out to their destinations, the leftover pallets can be combined into full truckloads on standard trailers and follow the containers to the destination.
In our experience, the overall throughput cost for import transportation is typically reduced by 15-20% when shipping overweight.
Importantly, while you will have additional costs for drayage, transloading and final delivery of the split load, these costs are significantly lower than the cost savings you enjoy by shipping fewer containers over the ocean. As you can see in the inset graph, you can ship the same amount of cargo in 741 overweight containers that you would in 1,000 standard-weight containers. This results in a cost savings of 17.9%.
What types of products work best for overweight shipping?
Any product that has a high density but can fit within a container is a great candidate for import into the Overweight Corridor. The following are a few of the more common product types that Weber Logistics regularly handles within the Corridor.
Construction-related products like tile, plumbing fixtures, steel products like nuts, bolts and pipes – basically just about anything you would find at a large hardware store.
Lumber and wood products.
Liquid products. The density of liquid makes overweight container shipping a great choice for products like beer, wine and spirits, as well as chemicals and many other products.
Commodities like sugar, flour and grains.
Heavy metals. Due to heavier environmental regulations in the U.S., many companies melt down lead overseas and ship the ingots here for smelting.
Don't forget dual transactions
Additionally, whether overweight or not, 3PLs can help companies reduce unnecessary costs related to dual transactions at the ports. Several terminals at the Ports of L.A. and Long Beach require dual transactions. This means that when you come in to pick up a container, you need to bring an empty one with you. Companies who have an odd number of containers end up holding on to an empty container until their next incoming one arrives. Substantial per-diem and demurrage charges can result. As 3PLs in the region have multiple customers with containers coming into and out of the ports, this is a problem they can help you avoid altogether.
Turn to Weber Logistics for overweight shipments
Weber Logistics has operated within the Overweight Corridor for many years and continues to help shippers enjoy substantial savings on their imports. Best of all, our drayage and overweight services integrate seamlessly with our warehousing and final-mile delivery services – allowing you to manage key chunks of your supply chain with one integrated provider. To learn more about Weber's service capabilities, contact us today.