If you're a manufacturer, supplier or any other type of company seeking to do business with big box retailers, a key word to consider is "compliance." Every retailer has its own distribution infrastructure – complete with its own processes and procedures that allow products to flow through to stores in the most efficient manner possible. They expect vendors to adhere to these processes and procedures. In this article, we'll examine the most important aspects of retail compliance so that you can enjoy successful, long-lasting relationships with your retail partners.
What is Retail Compliance?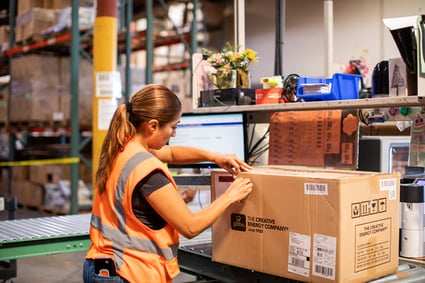 Retail compliance (or vendor compliance) is, simply put, the act of adhering to a retailer's specific requirements for vendor partners. These requirements can cover everything from pallet creation and label placement to EDI set up and warehouse technology configuration. The penalty for non-compliance? Aside from being on thin ice with the retailer, non-compliance will result in "chargebacks" – fines for each instance of non-compliance, which they deduct from their payments to your company.
5 Key Compliance Tips
Understanding the following can go a long way in your compliance efforts with your key retailers.

1. Know each individual retailer's routing guide. If you're working with a retailer, you need to know its routing guide inside and out. As a vendor, a routing guide is your instruction manual. It describes in detail every process and action that is expected of you. This includes specific requirements related to pallets, labels and technology as noted above. It also provides guidelines regarding delivery schedules, shipments and many other operations details.


It is important that you – or your 3PL provider – always use the latest routing guide. Most retailers will update their guides annually. Many will also hold periodic 'routing guide summits' in regions throughout the country. During these summits, retailers will detail upcoming routing guide changes and vendor expectations.

2. Know the KPIs involved. Retailers are increasingly reliant on key performance indicators (KPI) to gauge vendor success. Common metrics that are of primary concern to retailers include on-time shipping, on-time final delivery, inventory accuracy and fill rate. Importantly, poor performance no longer results in a simple hand slap – serious fines can be involved. For example, Walmart's On-Time-In-Full (OTIF) program penalizes vendors who deliver late or incomplete shipments by issuing fines based on a percentage of the goods' value. Other retailers have followed suit with similar programs. In short, you need to know what KPIs are important to your retailer and make sure they're equally important to every member of your team.

3. Know that chargebacks can be overturned. If you're issued a chargeback that you feel is incorrect (i.e., you were not in violation), it is important to know that you can challenge it. The success of your challenge will largely be determined by three factors:
How well you've documented the actions and processes in question
How well you've communicated issues to the retailer (e.g., if the retailer's carrier has not responded to your messages and you fear that a shipment may be late, it's a good idea to let the retailer know in advance; you can also rely on that documentation later)
How well you can allocate resources to fight it (some companies have in-house resources dedicated to fighting chargebacks)
4. Know that FBA is not your only Amazon option. If you are selling on Amazon, you may be enticed into having Amazon handle fulfillment of your orders through its Fulfillment by Amazon (FBA) program. While FBA has its benefits (e.g., 2-day fulfillment of Prime orders), it also has many shortcomings (e.g., high costs that grow even higher during the holidays and penalties for storage of slow-moving inventory). Because of this, more and more sellers are turning to a Seller Fulfilled Prime model to fulfill Prime orders while avoiding some of FBA's shortcomings. With Seller Fulfilled Prime, you handle fulfillment yourself (or your 3PL handles it for you) while still enjoying Prime status – provided that you can meet the 2-day shipping requirement.
5. Know that 3PLs can handle retail compliance for you. Just as 3PL providers can handle the warehousing and distribution portions of your supply chain, they can also ensure that every aspect of those operations are compliant with exacting retailer requirements. Most 3PLs you'll encounter already have relationships with many retailers and are thus very adept at following routing guides and meeting or exceeding KPI goals. It then just becomes a matter of plugging your operation into the 3PL's existing connection with the retailer.
Characteristics of 3PLs that can effectively comply with retailer requirements include:
They have existing relationships with retailers and are up-to-date on all routing guide requirements
They demonstrate the ability to meet or exceed KPI requirements
They have people on staff expressly focused on quality control and retail compliance
They have a robust WMS that allows for full visibility to inventory, placement of all orders, real-time trackability and traceability, customized picking patterns, receipts and other documentation, serial number or lot number tracking, recall implementation, and any other functions a retailer may require
Retail compliance on the West Coast starts with Weber
At Weber Logistics, vendor compliance continues to be a primary area of focus. We have an in-house team of professionals solely dedicated to compliance. This team works hand-in-hand with our in-house IT team to provide seamless integration between your system, our system, and the systems of your retailers. This expertise and elimination of outsourced IT vendors can reduce initial systems integration time from 2 months to 2 weeks. To learn how Weber can optimize every aspect of your retailer relationships – from initial setup to day-to-day distribution (with standing West Coast delivery appointments at most major retailers) – contact Weber today.