When considering all the costs involved in getting your containerized goods from port to market, it's easy to think of all the "big" things that drive up your spend. These big-ticket items include your ocean carrier, drayage, and warehousing costs.
As your container makes its way through your supply chain, however, there's a smaller – but cumulatively significant – cost that is likely eating away at your margins: the chassis rental fee. In this article, we'll examine key ways to reduce this fee and improve the profitability of your operation.
The chassis rental fee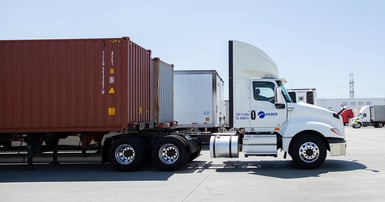 By itself, the rental fee for a chassis may not stop you in your tracks. At the Ports of Los Angeles and Long Beach, a regular chassis will set you back around $35/day, with a 3-axle chassis costing around $75/day. It's only when you realize that it can take up to 5 days between pick up and return – and you're confronted with a $175 chassis charge ($375 if 3-axle) – that the costs don't seem so insignificant.
Ways to reduce chassis rental fees
When looking to lower your chassis costs, consider the following approaches:
Choose an asset-based provider. We already know that choosing an asset-based carrier for drayage can speed distribution and provide you with capacity when it's scarce (e.g., during peak season). Such a provider can also reduce your chassis costs as it is typically going to charge you less for chassis rental than you would pay renting at the port. Furthermore, if you use the same company for drayage and warehousing, you'll usually get priority for unloading at the warehouse. This results in less chassis rental time, which means reduced chassis rental costs.
Negotiate your chassis rental fee. And, while you're working with your asset-based carrier, don't be afraid to negotiate the fee itself. People commonly negotiate the top price of the project and/or the number of days that chassis is out of port, but very rarely negotiate the chassis rate. Unlike port rental services, many 3PLs will negotiate with you and allow you to further reduce your costs.
Avoid picking up on Thursdays and Fridays. Sometimes this is unavoidable (e.g., the vessel arrives on Thursday and you must get your freight out of there to avoid demurrage charges), but you should avoid it when you can. If you pick up on Thursday but the terminal you want to return to on Saturday will be closed, you'll be charged through to Monday (5 days). Friday is the worst day to pick up as you'll always pay for a minimum of 4 days. It will usually take 5 as your container likely won't get unloaded until Monday, which means that the chassis will not be returned until Tuesday due to tight dispatch schedules (it generally takes 24 hours between unload and the returning of the chassis).
Be wary of night pickups. Night pickups may seem like a good idea as your carrier might avoid congestion and traffic at the Ports of Los Angeles and Long Beach, and you seemingly get a head start for unloading. Remember, however, that the night – even if you pick up at 11:59pm – still counts as a full day of chassis rental. As most warehouses do not run a third shift, you'll still be waiting until the next day for unloading. That means you're paying for two days right off the bat – not yet including unload and return times.
Be aware of "dual transactions." During peak season, about half of the terminals at the Ports of L.A. and Long Beach require "dual transactions" at the port – as you take back in an empty container, you must pick up a full or vice versa. You need to understand whether the terminal your container is coming into is one of these dual transaction terminals. If it is, you'll need to find a 3PL or drayage company that has enough business at the port to perform a dual transaction on your behalf.
Lean on Weber to reduce chassis costs, manage your West Coast imports
With warehouse and trucking operations near the major West Coast ports of LA, Long Beach and Oakland, Weber Logistics is a West Coast logistics leader. Weber is asset-based, with chassis rates significantly lower than what you would pay to rent at the port. We provide an integrated port-to-market solution – combining drayage, warehousing, and transportation – to optimize distribution of your products on the West Coast. To learn more about Weber's services, contact us today.