To maximize sales revenue, brands often need to keep two sets of customers happy. Retail partners require compliance with their rigid vendor requirements. And eCommerce customers want their orders delivered fast and error free.
Not long ago, many companies would silo these B2B and B2C distribution efforts. But now, modern 3PL providers can handle omnichannel distribution with relative ease, allowing you to fulfill all your orders from the same inventory.
What is omnichannel distribution?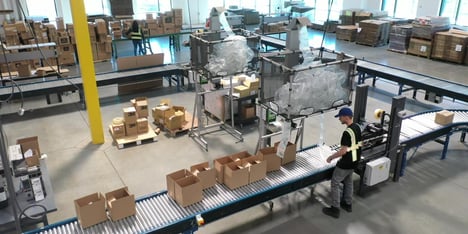 Simply put, omnichannel distribution (also known as multichannel distribution or omnichannel fulfillment) involves the fulfillment of all of your orders across multiple sales channels.
In the past, it was common to fulfill B2B orders from a 'B2B' set of inventory and fulfill eCommerce orders from a 'B2C' set of inventory. Some companies would even fulfill these orders from separate warehouses.
Aside from being inefficient and costly, that siloed approach is no longer necessary as there are many 3PLs sophisticated enough to handle omnichannel fulfillment.
All Sales Channels, One Fulfillment Partner
One of the keys to this 3PL ability is the warehouse management system (WMS). This robust software acts as the central hub of warehouse operations, from inventory management and order tracking to metrics reporting and labor management.
As part of this, your 3PL's WMS system can manage inventory for omnichannel distribution in real time. With such a system, you can keep inventory levels low as all orders are fulfilled from the same inventory pool. This allows you to reduce your warehouse footprint and storage costs.
Your provider's WMS system can also be an ally in your efforts to adhere to retailer vendor requirements. Just about every aspect of your warehousing operations can be hard coded to comply with these requirements. This includes generation of labels and pack slips, order tracking, and real-time reporting of the metrics important to your retail partners.
Your 3PL's WMS can also provide real-time access to the information and KPIs most important to your business. Many WMS systems allow for seemingly endless customization of inventory, order, labor, and productivity metrics across multiple clients.
Such sophistication comes at a price, of course. A robust WMS system can cost well into the six figures. But it's not an investment you need to make yourself, as most 3PLs already have top-tier WMS systems in place. By outsourcing warehousing services to a 3PL provider, you can simply connect your systems to the 3PL's WMS and share the cost of the system with the provider's other customers.
What to look for in an omnichannel 3PL provider?
While most modern 3PLs have omnichannel capabilities, not all of those capabilities are equal. The following are just a few of the characteristics you should look for in finding the provider best suited to your needs.
Robust systems. Again, it starts with the WMS, which drives the processes for efficient picking and outbound preparation. With eCommerce fulfillment operations, orders are processed through a selling platform like Shopify, BigCommerce or Magento. From there, integration between such a system and a WMS is needed for order creation, inventory modification, label printing, efficient picking, packing, shipping, and tracking. In addition, the WMS needs to integrate with a parcel system to manage the processing of the order for shipment. Your 3PL can set up all these integrations on your behalf.
Systems integration capabilities. Systems integration can be time-consuming, and issues here can really derail start-up operations with a new retail customer. This is one of the reasons companies choose to partner with 3PL providers that have an in-house IT team. When such providers are also retail logistics experts, it's likely that they have already integrated with the retailer and can avoid the coordination of outsourced IT vendors. This can reduce the timeframe for system integration from months to weeks.
Ability to customize. Depending on your needs, your omnichannel distribution operations may require a high degree of customization (e.g., physical layout within the warehouse, optimal product placement to match order volumes and reduce pick travel, staffing and space fluctuations that mirror sales volumes). Some 3PL providers will work with you to design and tailor operations to fit your needs. While others – especially large players like Amazon – may be cost prohibitive and offer little-to-no customization.
Commitment to B2C speed. You will want to partner with a 3PL fulfillment company that can process orders quickly and get them right out for distribution. This means that your 3PL must have an infrastructure in place to handle volume spikes during peak seasons – or public health crises like COVID-19. It also means that your 3PL is geared to getting orders that come in later in the day out the same day. In the earlier days of eCommerce, for instance, noon was typically the cutoff, so orders that came in after noon were shipped the next day. In our modern speed-hungry climate, however, that just doesn't cut it. Many providers now have cutoffs later in the day and can be flexible during high-volume periods.
Existing retailer relationships. Your retail customers employ a "just in time" model in which they want just the right amount of inventory so that items are on the shelves and not clogging up their own storage spaces. You can remove the headaches associated with this model by partnering with a 3PL that supports final-mile transportation, and already has geographic routes and standing appointments with your retailers. Your products will simply be included in a given day's deliveries whenever a shipment is needed.
Vendor compliance. Your retail partners have a host of vendor compliance requirements outlined in their routing guides, which are updated regularly. To avoid onerous chargeback penalties, it is important that your chosen omnichannel fulfillment partner is a retail compliance expert that stays abreast of routing guide changes and can adjust operations to meet new requirements. It is also important that your provider has experience in successfully fighting retail chargebacks if you are penalized unfairly by retailers that consider chargebacks a profit center.
Turn to Weber Logistics for West Coast Omnichannel Distribution
Weber Logistics is a West-Coast-based 3PL provider that specializes in omnichannel distribution, but goes several steps further in providing you with a fully integrated and agile supply chain solution. This means that your warehousing operations can be fully integrated with your final-mile delivery and drayage operations under one 3PL umbrella. Weber is agile enough to apply its flexible, built-for-speed operating models to changing market conditions as they happen. To learn more about Weber's capabilities, contact us today.