Growing from 100 orders per month to 15,000 per month. For most companies, that's a dream come true. But if you have the wrong solution in place for eCommerce order fulfillment, that's a dream that may never materialize. Here at Weber, this type of quick growth spurt can, and has, happened with eCommerce order fulfillment clients. The only way to handle it is to have an operation that can seamlessly scale to meet the uptick in demand.
ECommerce order fulfillment scalability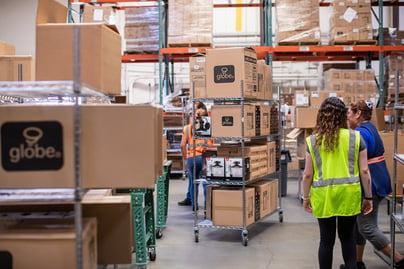 In logistics, scalability means being able to support operations at their lowest volumes, highest volumes and everything in between. Take shared warehousing, for instance. Scalability means having a plan to handle demand peaks and a corresponding plan to ratchet back resources when demand subsides.
In eCommerce, the same principle applies. This ability to scale is one of the major advantages of outsourcing eCommerce order fulfillment to the right 3PL provider. If you don't have the infrastructure and expertise of a 3PL on your side, you're in the precarious position of 'guesstimating' how successful your business will be out of the gate.
For many online businesses, it's tough to predict when products will gain traction. Sometimes all it takes is one good publicity placement to take you from obscurity to being "the next big thing." You want to be ready when that happens.
But be careful here.
You can build a large fulfillment operation that anticipates tens of thousands of weekly orders, but if those orders don't come as forecasted, you'll be sitting on some very expensive space and automation.
Conversely, you can take an "If they come, I'll build it" approach. This allows you to preserve your capital. But if your operation can't keep up when demand spikes, your new customers may get turned off and not return.
The outsourcing option gives you access to a 3PL's substantial fulfillment infrastructure. The right partner will work with you on a plan to use only the space and services you need today, with the ability to expand – space, labor, automation – as the volume and velocity of orders increase.
ECommerce fulfillment and beyond
Weber Logistics can handle eCommerce distribution, as well as retail distribution to all major retailers. Weber's retail distribution services include:
Generation of customized pack slips and retailer-specific UCC 128 labels
High-volume kitting that allows for existing products to be combined into new SKUs or broken down into multiple SKUs
Seamless IT onboarding and integration with new retailers in which setup, testing, and 'go live' are performed within 1-2 weeks
So, whether it's eCommerce fulfillment, retail distribution, drayage from West Coast ports, OTR, or any number of other key logistics functions, consider your lowest and highest volumes throughout the year.
Do you waste money on space and resources during the lows? Do you struggle to keep up with demand during the peaks? If you answered "yes" to either question, it might be time to consider partnering with a 3PL that can provide true scale to your operation.
Weber Logistics' warehouse network throughout California, as well as our asset-based transportation and drayage services, can be as robust or lean as your operation requires. To learn more about Weber's 3PL services, contact us today.