Southern California is home to many things: Hollywood, beautiful weather, and storied sports franchises. More importantly to you, however, it's a launch pad for reaching your Western US customers and home to the 3PL providers that help you do it. In this article, we'll review some of the main services that 3PL companies in Southern California can provide for your business, as well as some things to look for when selecting a provider.
1.
3PLs in SoCal get your imports to market faster
Yes, there is currently consternation over the yet-to-be-resolved contract negotiations between longshoremen and the West Coast ports. But that doesn't change the fact that importing into the West Coast – specifically the Ports of Los Angeles and Long Beach – is the fastest means of getting imported goods from Asia to your US customers.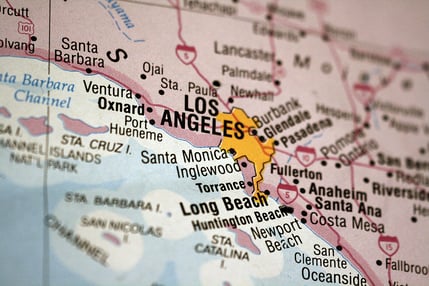 According to ODM Group, travel time from Hong Kong to the Port of LA is about 20 days while moving the same cargo to the Port of New York/New Jersey would take about 34 days.
If you ship into Los Angeles, products can move by road to 90% of the U.S. population in 5 days and by rail in 8-9 days. So, compared to shipping into the Port of NY/NJ, products could literally be in your customers' hands before the NY-bound containers hit the port.
A Southern California drayage provider can receive your containers at the Port, and transport them to a distribution center for storage, transloading, or deconsolidation.
When choosing a drayage provider, be sure to look for the following characteristics.
The capacity to handle small and large volumes, especially during peak season
The experience and relationships needed to navigate complicated port complexes
The people and the systems to manage and provide visibility into the movement of containers
The ability to stay ahead of regulatory, environmental, and legal requirements
Drivers that are hourly employees, not independent contractors who do not comply with AB5.
Drivers that have TWIC cards and meet other requirements
2. 3PLs in the Overweight Corridor can support your overweight ocean shipments
The Overweight Corridor is a 4-square-mile grid of local roads in which overweight containers can be freely moved by trucks with the proper permits. Three permits are needed to operate within the corridor: one from the city of Los Angeles, one from the city of Long Beach, and one from the county of Los Angeles. Trucking companies can purchase each of these permits – for each of their trucks – on an annual basis.
When you work with a 3PL provider within the Corridor, the 3PL can receive your containers and transport them to its warehouse. If that warehouse is not your product's final destination, the 3PL will unload enough pallets from each container (typically 2 to 4) so that the container is no longer considered overweight and no additional permits are required. The 3PL will then transport the now street-legal containers.
Once all containers have headed out to their destinations, the leftover pallets can be combined into full truckloads on standard trailers and follow the containers to the destination.
This weight reduction method typically saves companies 40% in total transportation costs for Asia-to-U.S. overweight containers.
3. SoCal 3PLs can perform omnichannel fulfillment
Nearly 25% of the US population lives in the Western region of the country, while 12% of the US population lives in California. That's likely a large swath of your customer base that you need to reach quickly with B2B and B2C distribution. Many 3PL warehousing providers can perform both with omnichannel fulfillment. Here's what you'll need to look for.
On the B2B side:
Vendor compliance.

When you work with a retailer, you – or your fulfillment partner – must follow the retailer's routing guide, which outlines very specific order requirements. Failure to follow these requirements to the letter will result in expensive chargebacks which have become more stringent and more prevalent in recent years.

Systems integration expertise.

Systems integration issues can really derail start-up operations with a new retail customer. This is one of the reasons companies choose to partner with 3PL providers with an in-house IT team. When such providers are also retail logistics experts, they likely have already integrated with the retailer's systems and can avoid the coordination of outsourced IT vendors.

Value-added services.

Another reason companies choose to work with 3PL providers for B2B and omnichannel fulfillment is the array of value-added services that many 3PLs offer, in addition to standard warehousing and distribution. These services include kitting and assembly, display building, inventory postponement, product repackaging, and labeling and ticketing services.
On the B2C side:
eCommerce systems capabilities.

With B2C/eCommerce fulfillment, orders are processed through a selling platform like Shopify, BigCommerce or Magento. From there, integration between such a system and your warehouse management system (WMS), or that of your 3PL provider, is needed so that the WMS can create an order, update inventory, print labels, and drive efficient picking, packing and shipping. In addition, the WMS needs to integrate with a parcel system to manage the processing of the order for shipment with the correct carrier, as well as the service type and rates as designated by the order.
Shipping speed. While speed is, of course, a consideration with B2B fulfillment, B2C is far less predictable. Orders can come in at a snail's pace one day and then fast and furious the next. You need a B2C fulfillment operation that can scale up and down in sync with order volumes to meet customer delivery expectations.
Customizable product packaging. In the B2C world, there is no step between the warehouse and the customer. The product packaging, safety and presentation that drive the customer experience are dependent on what happens within the warehouse. Some orders will require enhanced services at packout to protect the shipment or embellish packing to create a "wow" unboxing experience.
4. SoCal 3PLs can store and distribute goods produced in Mexico
Many products such as foods, beverages, and apparel are produced in Mexico and distributed in the US. With this model, final products are shipped to a logistics partner on the US side of the border for storage and distribution.
The advantages of working with a US-based 3PL provider for distribution instead of shipping directly from Mexico include the following.
Transit times are more predictable
Theft is less of an issue
Better road infrastructure
Better product visibility and control
Greater warehouse capacity and more modern facilities
5. SoCal 3PLs can provide final delivery services
Whether you need truckload or LTL services, regional or long haul, ambient or refrigerated, there are SoCal 3PL transportation providers that can handle it.
To find the right provider, however, you'll need to first make sure that the trucking company complies with California's CARB regulations. From there, consider the following transportation strategies.
Deal with reputable carriers. Rates are always important, but quality service is vital. When you partner with a carrier simply because it has the lowest rates, keep in mind that many other shippers are doing the same thing. The lowest-priced carrier may be taking on more loads than it can handle, resulting in shipment delays.
Split your loads among multiple carriers. Conventional wisdom used to be that you find one preferred carrier and give them all your freight. However, now with bids, RFQs and technology advances, shippers have become savvier and can save money by awarding the freight to multiple carriers based on specific attributes.
Look to smaller regional carriers to help diversify your freight. Don't forget the regional carriers. Quality regional providers can offer capacity, competitive rates and exceptional service levels. They're also less likely than larger, national carriers to miss appointments as their smaller service areas allow for more predictable scheduling.
Give your FTL and TL carriers adequate lead time. If you call your carrier a few days in advance with your load information, it may or may not help solidify your appointment for your chosen day and time. The reason is that most carriers plan their loads on a day-by-day basis. However, for regional carriers and providers with more predictable schedules, such a heads up can be mutually beneficial for you and your provider.
Consider drop trailer agreements. The best way to secure capacity is to simply make life easier for your carrier(s). Few things make life easier than drop trailer agreements. With such an agreement, you – or your 3PL provider – load your pallets into a trailer. When the driver arrives at the warehouse, he or she can simply sign the bill of lading, grab the pre-loaded trailer (often while exchanging it for another), and be on his or her way.
Turn to Weber Logistics for all of the above
If you need some or all of the above services, why not turn to a 3PL provider that can truly do it all? Weber Logistics is a West Coast 3PL with multiple California warehouses, asset-based drayage services and regional and national transportation capabilities. By turning to one integrated 3PL provider like Weber, we can optimize your supply chain while simplifying it for you at the same time. To learn more about the benefits of working with an integrated provider in SoCal and beyond, contact Weber Logistics today.